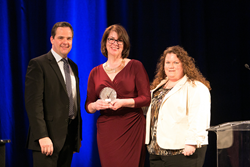 "We are honored to be part of this selective group. Paycor is dedicated to not only creating great products and services, but also delivering them in a way that fits the needs of our clients."
Las Vegas, Nevada (PRWEB) March 08, 2016
HR Tech firm Paycor announced today it won a fourth-consecutive People's Choice Stevie Award for Favorite Customer Service. Paycor also received the Silver Judge's Award for Customer Service Department of the Year, and its employees Jon Southern (Front-Line Customer Service Professional of the Year) and Kelly Sipple (Back-Office Customer Service Professional of the Year) received Bronze Stevie Awards.
The awards were presented to honorees during a gala banquet on Friday, March 4, at the Paris Hotel in Las Vegas. More than 500 executives from the U.S. and several other nations attended.
"Paycor congratulates all of the winners and finalists who are working hard to listen to their clients and provide great customer experiences," stated Christine Kowalczyk, vice president of client service support for Paycor. "We are honored to be part of this selective group. Paycor is dedicated to not only creating great products and services, but also delivering them in a way that fits the needs of our clients."
More than 2,100 nominations from organizations of all sizes and in virtually every industry were evaluated in this year's competition, an increase of 11% over 2015. Finalists were determined by the average scores of 115 professionals worldwide, acting as preliminary judges. Entries were considered in 59 categories for customer service and contact center achievements, including Contact Center of the Year, Award for Innovation in Customer Service, and Consulting Practice of the Year; more than 50 categories for sales and business development achievements, ranging from Senior Sales Executive of the Year to Business Development Achievement of the Year; and categories to recognize new products and services and solution providers. Other people's choice winners, who will each receive the coveted crystal People's Choice Stevie Award, include dESCO, Carbonite, Inc., Marriott Vacation Club International, Vonage and Wayfair. More than 27,000 votes were cast this year.
About Paycor
People are at the core of Paycor. Serving more than 30,000 small and medium-sized organizations, Paycor is known for delivering amazing client experiences combined with modern and intuitive HR and payroll solutions. Paycor's personalized support and intelligent technology ensure that key business processes, including timekeeping, reporting, onboarding, and recruiting, run smoothly across your business. Paycor is the trusted partner for brokers, bankers and CPAs. Learn how Paycor can advance your business by connecting with us at Paycor.com.
About The Stevie Awards
Stevie Awards are conferred in six programs: the Asia-Pacific Stevie Awards, the German Stevie Awards, The American Business Awards, The International Business Awards, the Stevie Awards for Women in Business, and the Stevie Awards for Sales & Customer Service. Stevie Awards competitions receive more than 10,000 entries each year from organizations in more than 60 nations. Honoring organizations of all types and sizes and the people behind them, the Stevies recognize outstanding performances in the workplace worldwide. Learn more about the Stevie Awards at http://www.StevieAwards.com.
Sponsors of the 10th annual Stevie Awards for Sales & Customer Service include ValueSelling Associates.
###