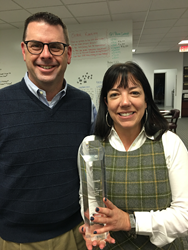 Toni is a workhorse whose energy and genuine passion for work is contagious.
(PRWEB) March 04, 2016
Each year, the leadership team at Contemporary Staffing Solutions chooses a theme for its annual kick-off meeting. This year's Dr. Seuss-inspired theme was "Oh the Places We'll Grow." This meeting presented the staff at CSS with an opportunity to reflect on the progress they made in 2015, and identify opportunities for further growth and improvement in the coming year.
After outlining their plan for 2016, the leadership team presented a number of employees with awards recognizing outstanding performance in their field. Among these awards was the prestigious Donna Pearson Award, named for the company's founder and long-time CEO. Recipients of the award are chosen based on the extent to which they embody Pearson's best qualities, including her initiative and ongoing commitment to building relationships with candidates. This year's recipient of the Donna Pearson Award was Toni Law, technical account manager at CSS' office in Media, Pennsylvania. During the presentation, Brendan Coghlan described her as a "workhorse whose energy and genuine passion for work is contagious."
Other notable commendations included the Leadership of the Year Award, which went to Wanda Powell, branch manager of CSS' office in Jacksonville, Florida. Kim Williams said "Wanda has proven to be a force to be reckoned with on the management team. She is continuing to grow the Jacksonville office, she has proven relationships and she takes leadership actions that net results with little supervision or direction."
Abby Prince was thrilled to be able to honor Stephanie Staiano for being the Most Valuable Player of the Year on the ProSearch team. Sharon Tsao, EVP of Sales & Marketing is proud to continue Donna Pearson's legacy by recognizing the outstanding accomplishments of all of the company's employees. CSS aims to give continuous feedback to all employees so they can collaborate together in growing candidate and client relationships. Steve and Mike Pearson drive this need for employee engagement and actively celebrate the annual award ceremony.
After reporting record growth in 2015, CSS plans to leverage its outstanding workforce to ensure an even more productive and profitable year in 2016.