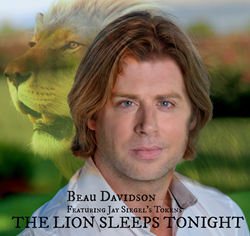 New York, NY (PRWEB) March 03, 2016
Last fall, Memphis born, multi-genre vocal sensation Beau Davidson teamed up with Jay Siegel's "Tokens" and Nashville hit-making producer Jimmy Nichols (Carrie Underwood, Faith Hill, Reba McEntire) to record a heartfelt and re-imagined rendition of the beloved song, "The Lion Sleeps Tonight." First released in 1961, the record sold millions of copies and was a worldwide hit in 36 countries.
"As we recorded this song, we were all moved by the tragedy of Cecil the Lion. This 2016 rendition of The Lion Sleeps Tonight is a call for people of all ages to be mindful we must protect, respect and safeguard all species," explained Beau Davidson. "I can think of no better day to release our new record and collaborative documentary music video than on World Wildlife Day, March 3rd, particularly since the US Fish and Wildlife service have now classified lions as endangered."
Project partners include: National Geographic, Wildlife Films and The Big Cats Initiative who advocate for wild animal protection and the cessation of poaching, trophy hunting and the selling body parts of endangered species. By viewing the documentary music video or downloading the single from iTunes, fans can voluntarily donate to the Big Cats Initiative or a cause of their choice.
With a genre-spanning voice rooted in the eclectic history of the Nashville music scene, recording artist/songwriter/producer/actor Beau Davidson has led an interesting life in music to say the least. With breakout hits like the pop/rock-tinged "More Than I Can Give," his ballad "You're All I Ever Wanted", and the patriotic anthem "Blessed" honoring America's past and present armed forces- his musical talent has brought him opportunities in many forms.
Beau Davidson, Jay Siegel and The Tokens went to work at Nashville's Starstruck Studios with famed producer and keyboardist Jimmy Nichols and emerged with what The Tokens' longtime manager, industry veteran Paul Kasofsky of Rainbow Management Talent, LLC, said, "This project will definitely turn heads. Something from the old to the new!"
The celebrated documentary filmmakers and wild animal advocate Dereck Joubert, explorers-in-residence for NatGeo, recently wrote this passage on his Blog for "Lion Watch" about Beau Davidson's rendition of the song and the poignant music video: "As this film and song are released we may have 20,000 lions left, and 1.2 Billion people, and my graph has a very steep dip in it. The race to stop this extinction is on. No one can stop time, and the release of The Lion Sleeps Tonight is not an attempt to stop the clock, but it does give us the opportunity to step up and break the trend of lion population declines since it was first written and performed by a songwriter who cleaned the studio in Johannesburg during the day, and sang of a village in the darkness at night. I hope that the words 'hush my darling,' 'because the lion sleeps tonight' never become words in an anthem, in another 100 years, when the lions of Africa are forever asleep.
In celebration of World Wildlife Day, 3 March, Emmy nominated recording artist Beau Davidson will release his brand new collaborative music video "The Lion Sleeps Tonight," in partnership with National Geographic's Explorers-in-residence Dereck and Beverly Joubert of The Big Cats Initiative. This video combines footage of the recording of this re-imagination with stunning footage of lions in the wild by the Jouberts. The single will be available globally though iTunes that day as well as a link to donate to the Big Cats Initiative.
Advance Praise For "The Lion Sleeps Tonight"

This version of "Lion" is bigger and even more universal than its predecessor
Can't-sit-still African percussion, real instrumentation, and a powerful vocal
As different now as it was when it came out in 1961! -Jay Siegel
A stout brass section that recalls Lionel Richie's "All Night Long" -Jimmy Nichols
This 2016 version brings listeners to the heart of the jungle and the all-inclusive party that this 72-track recording creates, spanning all generations and genres
From the new album, "The American Gentleman" Beau Davidson
Beau Davidson reimagines the #1 hit with the voices who made it a worldwide hit in 36 countries, Jay Siegel's Tokens. Davidson is a two-time Emmy® nominee for composing, singing and producing his patriotic anthem "BLESSED." A Memphis, Tennessee native, he has performed as an actor and a singer and is a magna cum laude vocal performance/opera graduate of Northwestern University's prestigious School of Music. Beau's first music video was integrated by CMT, GAC, MTV, and Vh1, indicative of the fact that his music appealed to a diverse audience. Like his hometown hero, Elvis, Beau's music and presence cross genre lines. "The American Gentleman," defines Beau as a classic singer in the style of Josh Groban and Michael Bublé, with a uniquely American flair, in the vein of another singer-actor, Harry Connick. Jr.
About Beau Davidson: Born in Memphis, Tennessee, and heavily influenced by the music of Elvis Presley, Al Green, and Otis Redding, Davidson writes and performs music reminiscent of the soulful inflections of "the Memphis sound", in a cross-genre capacity. Citing Elvis as a main source of inspiration, Beau has always been fascinated by the musical boundaries that Elvis transcended while also balancing a career on screen. Inspired by that talent, Beau is a member of the ensemble cast of the feature film, "The Ultimate Legacy," playing opposite with Raquel Welch and Brian Dennehy. As his character, Beau performs the song he composed, "Blessed," merging three of his talents together. The film premiered January 31, 2016 on the Hallmark Movies & Mysteries channel and is currently seen in a recurring rotation.
Beau studied classical piano from the age of four. In short order, he was added contemporary hits like "Great Balls of Fire" to his repertoire on his original compositions. He captured his own Memphis experience along the way, penning a songbook that reflected his upbringing and personality.
Moving to Los Angeles where he guest starred on The Bold and the Beautiful and Gilmore Girls, Davidson wrote music that he later released as a digital EP titled "The Good Hurt" in between projects. His debut single, "More Than I Can Give" was the song that catapulted his career. Independent of any record label or production company, the corresponding music video landed on the websites of CMT, GAC, MTV, and Vh1, indicative of the fact that Beau's music appealed to a diverse audience from contemporary country to pop/rock. Beau was named one of "Nashville's 25 Most Beautiful People" by Nashville Lifestyles Magazine and one of Cosmopolitan magazine's "51 Hottest Bachelors," representing his home state of Tennessee.
For More Info on Beau, VISIT: http://www.beaudavidson.net/
Facebook.com/BeauDavidsonMusic
For Info on Legendary Group, Jay Siegel's "The Tokens" Visit:http://jaysiegelandthetokens.com/