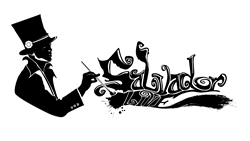 (PRWEB) March 03, 2016
For Immediate Release
Orlando, FL (March 3, 2016) – What do you get when you combine skilled artistry, high-energy break dancing, music, theatrics, speed and a paint brush? … The world's most dynamic and unique speed painter known as "Salvador Live!" For over five years, Central Florida-based Juan Salvador Llobet, best known as Salvador Live, has been impressing audiences near and far with his compelling live painting experience creating spectacular images with the added twist of dance and theatrical elements. Using his performance expertise incorporating a variety of special characters and themes like "Beatles," "Mad Hatter" and "Dali," Salvador engages, inspires and wows his spectators delivering a truly one-of-a-kind, unforgettable experience. From speed paint shows, painting on stilts and break n' paint shows to iconic portraits, interactive graffiti walls and live atmosphere painting, Salvador Live has made a brilliant and memorable impact performing at numerous events and occasions, including product reveals, trade shows, award ceremonies, galas, grand openings and festivals for Disney, Universal Studios, American Express, Hard Rock, Ferrari, Orlando CityArts Factory, Darryl Gwynn Foundation, International Arena Managers Association and many more.
Born in Venezuela, Llobet took an interest in arts as a young child fascinated with "Alice in Wonderland," which resulted in the inspirational character used in one of his performances today as Salvador Live. He found inspiration from Disney cartoons to classic artists like Pablo Picasso and Salvador Dali and began his creative journey. He moved to Miami as a teen where he gained his schooling in the arts and was exposed to the hip hop culture and became known in the B-Boy world as Heps Fury. Llobet toured and performed with original pioneers of breaking and hip-hop Crazy Legs, Mr. Wiggles, Pop Master Fable and Afrika Bambaataa. Adding dance and music to his passion, he bounced between two worlds for 10 years creating art in the off times. He toured the US and Europe with international artists including NAS, Missy Elliot, Daddy Yankee and Black Eyed Peas and made television appearances in shows like Despierta America, Sabado Gigante and MTV's Sink or Swim. Continually inspired by the world around him and especially the art of Salvador Dali, Llobet's drive to create his own mark as a stand-alone performance artist resulted in the fusion of his art, music, dance and performance skills now known as "Salvador Live!"
"It's truly been an exciting, inspiring and ever-evolving ride having the passion and privilege to bring Salvador Live to so many different audiences," says Llobet. "Combining my passions of art, dance, music and theater and witnessing the pure joy and entertainment of so many different people has been a dream come true. The arts are alive and so important in culture and communities. I look forward to continuing to give the gift I love to even more audiences and continuing to inspire and entertain my loyal supporters and make many new ones."
Coming off successful shows in Winter Garden and Hollywood, FL, Salvador Live is poised to continue painting and dancing his way to prominence one canvas and step at a time. Future performance dates include (subject to change):

Monday, March 21, 6pm-9pm: RedCarpetMonday Business Networking Event @ Ember, Orlando, FL
Friday, April 1, 6pm-10pm: Cheers to Change Victim 3rd Annual Gala Supporting Victim Service Center of Central Florida @ Orlando Museum of Art, Orlando, FL
May 2016: Salvador Live painting exhibit @ Winter Garden Art Association's SOBO Gallery, Winter Garden, FL
… and more!
Catch a glimpse of Salvador Live in action at https://www.youtube.com/watch?v=PAKmTdDaK_c. For more information on Salvador Live and updates on future shows, visit http://www.salvadorlivepaints.com and http://www.facebook.com/SalvadorLivePaints. For booking inquiries, contact Christine Logan, Loganmania, christine@loganmania.com and Julie Winterhalter, Live Art by Julie, liveartbyjulie@msn.com.
###
MEDIA CONTACT: Ilene Lieber, 321-277-7812, ilene@passionprconsulting.com