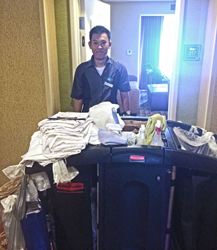 Nhat was the first person with a disability to be hired at the hotel in recent memory
Tampa/Brandon, FL (PRWEB) March 09, 2016
Hunter Hardt, Assistant General Manager of Homewood Suites by Hilton in Tampa, hired Nhat Do as a housekeeper because he was the best candidate for the job — but there was more to it than that. "Nhat was the first person with a disability to be hired at the hotel in recent memory," Hunter says. "We hired him because, although he was shy and you could tell it was his first interview, he had all the right answers and was definitely willing to work."
Nhat — who has a depressive disorder and a mild intellectual disability — found the position at Homewood Suites with the assistance of Vocational Rehabilitation (VR), a state agency that helps people with disabilities get or keep jobs. VR also provided a job coach, Lee Garcia, to help Nhat learn how to be successful at work.
On his first day on the job, Lee went with Nhat to the hotel to check out where he would be working, learn what his job duties would be, and talk to his bosses. Lee also helped Nhat throug his first two weeks of training, where he learned how to clean the rooms within a time limit.
"Nhat's job coach was there, but we didn't have to provide any accommodations for him because of his disability," Hunter explains. "We didn't do anything special for him that we wouldn't have to do for any new hire."
After Nhat completed his training, his supervisors were pleased to see how much he had learned. "He really improved and became one of our most productive housekeepers," Hunter says. "His work ethic showed he could be trusted."
Because of Nhat's impressive performance, Hunter quickly moved him from his part-time job into a full-time position. "He was right there with all our other employees," says Hunter. "We treated him exactly the same as everyone else. He was a great a part of the team."
Nhat was thrilled for the opportunity to work, and enjoyed being a member of the Homewood Suites team. "My bosses were great to me. They were very patient with me," says Nhat. "I loved it there."
Nhat has since used the experience he gained at the hotel to pursue two new job opportunities. He currently works in the deli at Wal Mart in Tampa and in goundskeeping at Busch Gardens. "I love both jobs," he says .
Hunter believes that Nhat's success should encourage other employers to hire someone who has a disability. "If it's the right person, give them a shot," he says. "Don't think their disability is going to be extra time or a burden, because, in reality, it didn't put any extra burden on us at all."
About Vocational Rehabilitation
Florida's Vocational Rehabilitation (VR) is a federal-state program committed to helping people with disabilities become part of America's workforce. The employer-focused website, https://abilitieswork.employflorida.com/, allows businesses to search at no charge for employees who are ready to go to work, as well as to post available jobs. VR has 90 offices across Florida, and last year helped 5,760 Floridians with significant disabilities find or keep a job. For more information about VR and its services, call (800) 451-4327 or visit http://www.Rehabworks.org.