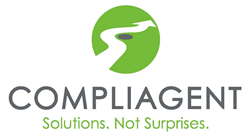 Solutions. Not Surprises.
LOS ANGELES, California (PRWEB) March 03, 2016
Compliagent today announced that Bill Richardson has joined the firm as Managing Director of Compliagent's Privacy and Data Security Practice Group.
An expert in data privacy, security and regulatory compliance solutions for healthcare providers and payors, Mr. Richardson brings years of experience to Compliagent's already-established HIPAA privacy and regulatory compliance practices. Previously, Mr. Richardson managed the sales and services teams at Micro Solutions, one of the best-known national IT infrastructure solution providers for the healthcare and life sciences industries and was Director of Business Development at ComplySmart, an IT security consulting firm.
Nick Merkin, Compliagent's CEO, commented, "Bill is already a 'name brand' within the field of healthcare data security and his wealth of technical know-how makes him a key addition to the Compliagent team. Adding Bill's expertise is a direct result of increasing client demand in this space and reflects our unwavering commitment to remaining the industry standard in all of Compliagent's practice areas."
"I am excited to start a new challenge at Compliagent and to be working with its existing professionals to lead its Privacy and Data Security Practice Group," said Mr. Richardson. "I look forward to further expanding Compliagent's already-extensive product solutions and consulting services."
Compliagent is a Los Angeles-based healthcare consulting firm serving healthcare providers and payors nationally. Combining unparalleled healthcare compliance experience across a full range of consulting services and products, Compliagent collaborates with clients to help them thrive in today's complex business and regulatory environment.