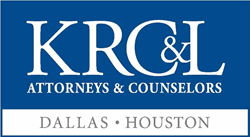 The selection of 11 attorneys to Rising Stars reaffirms that we are committed to hiring and retaining exemplary young lawyers who are recognized for their achievements
DALLAS, Texas (PRWEB) March 04, 2016
Each year, Super Lawyers, a Thomson Reuters publication, rates outstanding young lawyers from more than 70 practice areas for inclusion on the Rising Stars list. The attorneys selected are considered to have attained a high degree of peer recognition and professional achievement.
Eleven attorneys from Kane Russell Coleman & Logan were among the elite attorneys selected for inclusion in the 2016 Rising Stars list. Brian Clark, Thomas Ciarlone, David Fisk, Christopher Harris, William Jones, Sarah Judge, John Kane, Jeff Novel, Angela Offerman, Kenneth Riney and Brian Stork were all chosen for this year's list.
"The selection of 11 attorneys to Rising Stars reaffirms that we are committed to hiring and retaining exemplary young lawyers who are recognized for their achievements," said Zach Mayer, Director of the Firm.
For attorneys to be eligible for inclusion in Rising Stars, they must be either 40 years old or younger or practicing for 10 years or less. Each candidate is evaluated and assigned points based on 12 indicators of peer evaluations. Fewer than 3% of attorneys in Texas are chosen for the list each year.
Kane Russell Coleman & Logan PC is a full service law firm with offices in Dallas and Houston. Formed in 1992 with five lawyers, today KRCL has more than 95 attorneys. The Firm provides professional services for clients ranging from Fortune 500 companies to medium-sized public and private companies to entrepreneurs. KRCL handles transactional, litigation and bankruptcy matters in Texas and throughout the country.