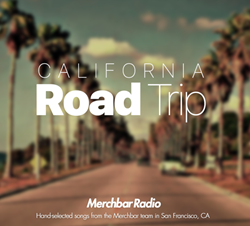 "We're excited to deliver an enhanced app experience and give our customers music they are passionate about." - Edward Aten, Merchbar CEO
San Francisco, CA (PRWEB) March 04, 2016
Feed.fm is excited to announce that Merchbar is releasing the newest version of its iOS app, "Merchbar - Band Merch & Vinyl," featuring a new streaming music feature, powered by Feed.fm. Merchbar is the easiest way for fans to discover and buy merchandise from their favorite artists, with access to merch and vinyl from over 10,000 musicians. Merchbar Radio, powered by Feed.fm, now gives fans a custom streaming experience highlighting their favorite artists, at no charge and completely commercial free.
"Music and artist merchandise are inextricably intertwined," says Ed Aten, founder and CEO of Merchbar. "We were searching for a solution to better connect music listening to merch buying, and Feed.fm has provided just that. We're excited to deliver an enhanced app experience and give our customers music they are passionate about. From a business standpoint, we anticipate increases in session times, return visits, and conversions as customers have a great reason to stay and enjoy great music while discovering merchandise from their favorite artists. We've been impressed with results other top tier retailers have seen success with Feed.fm, and I'm thrilled to bring the great experience they create to our customers."
Jeff Yasuda, CEO and Co founder of Feed.fm, says the collaboration makes perfect sense. "Merchbar is the premier destination for a lot of amazing, and, often, rare products from top musical acts of every era. We're proud to partner with Merchbar and the inherent fit between our two companies was obvious from the start. Increasingly, we're seeing mobile retailers shift away from a basic ecommerce experience and find ways to add value for their users as a strategy to reduce churn. This is just the latest example of a premiere brand embracing their role as tastemaker and entertainer for their fans."
The latest trends in retail mobile apps prove that they must be more than just a shell of a mobile website. The common themes seen among winners in app ratings studies like ARC's 2015 study "The Best- and Worst-Rated Apps" is that they take advantage of features that truly enhance the mobile browsing and buying experience - like adding custom streaming radio. While it's traditionally been a challenge to deal with licensing for popular and indie music, Feed.fm's solution takes care of both delivery and compliance, and all artists get paid.
Creating great experiences for fans on mobile devices is core to Merchbar's work supporting artists. "From the beginning we knew everything was heading towards mobile so we've focused our entire company on creating breakthrough shopping and discovery in mobile. Shopping is so much more than just the transaction - it's the experience of finding the right item, enjoying your discovery and building a relationship with a brand and a company. When fans come to us to find their next Sublime T Shirt, The Weeknd Hat or Kanye West Hoodie we are tapping into a deep and unique relationship, so we do everything we can to support that emotional connection fans have with their favorite artists." Aten said.
--------------------------------------------------
Feed.fm offers a suite of plug and play music solutions that leverage streaming music as a powerful conversion and retention tool for leading brands across retail, CPG and mobile gaming. Clients typically double app user retention rates and see 2x visit-to-purchase conversion increases when deploying Feed.fm's solutions. Current customers include American Eagle Outfitters, Fab.com, Bud Light, Abzorba/Novomatic, and numerous music festivals built by award-winning developers like Crowdtorch and FOMO.
Merchbar is the best place for fans to discover and buy merchandise from their favorite musicians. With a huge selection of over 100,000 products from 5,000 artists, Merchbar provides fans with a beautiful, fast shopping experience through Merchbar.com and the Merchbar iPhone app. Music is a personal experience. That's why we allow fans to sign up for Merch Alerts, an email digest of new merch from their favorite artists, and provide a personalized feed of merchandise from artists they love.