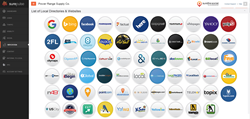 "Many local businesses make the mistake of thinking that once they have listed their business in a few places, the job is done." Chris Marentis, Founder & CEO of Surefire Social
McLean, VA (PRWEB) March 08, 2016
Surefire Social's Marketing Control Center SurePulse™ customers now have the ability to manage their business listings across Google Search, Maps and Ads directly from within SurePulse™.
This feature was added this week by Surefire Social's integration partner Yext as part of the PowerListings® Network. Along with Google, Surefire Social's customers have access to more than 60 additional local directories to manage their business information online to ensure they remain relevant, recent, and accurate to improve chances of getting in front of where the eyeballs are looking.
For a local business, this means having your website, phone number, hours of operation, business address, etc. correct on every listing. When a potential customer uses their smartphone to "pull" information, many of the phone apps show business details obtained from search engines like Google and/or the local directories. Trying to manually update key information to ensure accuracy, such as special hours of operation or seasonal offers, is a nightmare for a small business.
With the new integration directly into Google My Business webpage, Surefire Social customers can save time and update key location data across Google properties—including Maps, Search and Ads—and ensure the location data is always consistent, authoritative and up-to-date.
"Many local businesses make the mistake of thinking that once they have listed their business in a few places, the job is done," said Chris Marentis, Founder and CEO of Surefire Social. "The rapidly changing data and local search landscape will affect your online visibility if they are not consistent across the internet. Monitoring the listings continuously and making real-time changes is essential. We are proud that our customers now have the added ability to make real-time changes to their Google My Business listings through our partner, Yext."
"Location data changes all the time, and in today's mobile world, businesses can't afford to lose customers to wrong addresses, incorrect store hours, and bad directions," said Jeffrey K. Rohrs, CMO of Yext. "The addition of Google to our PowerListings® Network adds the world's leading search engine and maps provider to what was already the world's best location management platform. And when great partners like Surefire Social leverage our technology, it's a win for all involved as their customers see instant improvements to the accuracy of their location data across desktop and mobile touch points."
About Surefire Social
Surefire Social is a local marketing cloud company with the first and only complete marketing campaign management platform, SurePulse™, built exclusively for hyper-local digital marketing. Local business visibility today depends on implementing a coordinated campaign across many channels and platforms within channels (website, mobile, social, local directories, reputation, SEM). SMBs find it overwhelming and frustrating to assimilate all the changing platforms, integrate them and implement a coordinated cross-platform campaign. Brands with large franchise, dealer or contractor networks have the more complex problem of coordinating national-to-local campaigning. Surefire Social provides the technology stack and services to make it easy and cost-effective to monitor, measure and publish from one platform.