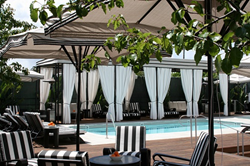 Surrounded by coastal breezes, attentive service and countless selections prepared with signature Shangri-la flair, diners can indulge their passion for culinary excellence at Easter
Santa Monica, CA (PRWEB) March 07, 2016
At Hotel Shangri-la Santa Monica, Easter Sunday is a special occasion that is celebrated in iconic Southern California style. This year's lavish buffet brunch is being presented al fresco in the hotel's tranquil lush garden courtyard and includes a special visit from the Easter Bunny along with a traditional egg hunt for youngsters.
"Surrounded by coastal breezes, attentive service and countless selections prepared with signature Shangri-la flair, diners can indulge their passion for culinary excellence and casual seaside ambiance for a memorable Easter with family and friends," said Hotel Shangri-la owner Tamie Adaya.
Easter Sunday Brunch
Hotel Shangri-la's bountiful brunch offers a selection of dining stations that cater to just about every taste. Begin at the attentive egg station, where personalized omelets and eggs any style are made to exact specifications. At the hot buffet, choose perfectly cooked eggs benedict, French toast, hickory smoked bacon, chicken sausage and more. Savor fresh sliced fruit, homemade granola yoghurt parfait, smoked salmon, ceviche and an assortment of the finest cheeses and charcuterie.
The carving station features delicious herb crusted leg of lamb and choice of tasty accompaniments including farm fresh salads and a medley of seasonal grilled vegetables.
To top off the dining experience, guests can indulge in the homemade dessert station featuring fresh baked chocolate chip cookies, oatmeal cookies, festive vanilla and chocolate cupcakes, fudge brownies and lemon bars, and a complimentary glass of champagne for each adult.
At 1:00 pm, kids 12 and under meet in the courtyard to participate in the egg hunt with the Easter Bunny and fill up their baskets with yummy treats. Hotel Shangri-la is the place to savor the enchantment of an extraordinary Easter celebration.
Hotel Shangri-la's Easter Brunch is offered from 11 am to 3 pm on Sunday, March 27 and priced at $60 for adults and $30 for kids 12 and under (plus tax and tip). Dining reservations can be made at (310) 451-0717.
Easter Dining in Private Cabanas
For an extra special experience, dine in one of four exclusive private poolside cabanas overlooking the pool, Jacuzzi and fire pit in the lush garden courtyard. Cabanas are draped in white canvas, complimented by black and white tuxedo furnishings creating a stylish enclave for special family and friendly get-togethers to enjoy this special day. Poolside cabanas are available for a fee and advance reservations are essential. Reservations for cabanas can be made by calling (310) 394-2791.
About Hotel Shangri-la
The original and urbane Hotel Shangri-la in Santa Monica is anything but ordinary and a member of Small Luxury Hotels of the World. Overlooking the Pacific since 1939, the hotel is a striking beacon of Art Deco elegance, a chronicle of the golden era of Hollywood and a quintessential nexus of culture. Hidden away on a high Santa Monica bluff overlooking the ocean and historic Santa Monica Pier, this timeless luxury boutique hotel promises guests their own personal Shangrila. Guests enjoy brilliant views of the Pacific Ocean, a celebrated history and a cultural connection during their stay. In the U.S., for toll-free room reservations only, please call (800) 345-STAY (7829) or for more information, visit http://www.Shangrila-Hotel.com.