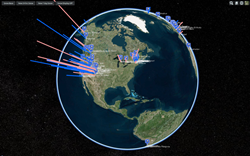 skitown USA (PRWEB) March 07, 2016
The ski and snowboard web site MountainYahoos.com has released their new "Powder Globe" for snow reports around the world.
This dynamic virtual 3D, mobile friendly, online "Powder Globe" is easily rotated and scaled to view the ski resorts from around the world with bar plots representing the depth of the snow base, the amount of new fallen snow in the last 24 hours or snow fall for the whole previous week.
Select the blue icons to view information about the resort and resort guides from MountainYahoos.com. Select the bar plot to view the snow depth.
Other Powder Globe "layers" can be turned on to show aerial imagery, roads and highways to help plan your trip.
The "Powder Globe" employs the latest in web 3D modeling and animation using WebGL, HTML5, Javascript and a data feed to render the 3D globe. This requires the use of a WebGL enabled browser like current versions of Microsoft IE 11, Apple Safari, Firefox or Google Chrome. The "Powder Globe" is also mobile friendly and can be viewed on Apple IOS and Android devices.
See the latest ski resort snow conditions at http://www.mountainyahoos.com/Globe/.
Contact:
Greg Ippolito
310-702-5469
prweb(at)MountainYahoos(dot)com