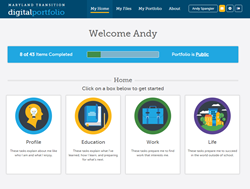 After a successful pilot, we're looking forward to helping our partners at CTE and MSDE roll out The Maryland Transition Digital Portfolio statewide
Baltimore, MD (PRWEB) March 22, 2016
No.Inc, an educational technology software development company in Baltimore Maryland, has worked closely with the Johns Hopkins University's Center for Technology in Education (CTE) and the Maryland State Department of Education (MSDE) to create the Maryland Transition Digital Portfolio, a portfolio-based assessment system for high school special education students.
"We've been working for months with Johns Hopkins University's Center for Technology in Education to create the Maryland Transition Digital Portfolio," says James Hagen, General Manager at No.Inc. "The system takes a portfolio-based assessment approach toward preparing special education students for their transition out of special education."
Portfolio-based assessment has a long standing history of being effective for creating deeper, more meaningful learning. According to this article published in The Wall Street Journal, the approach is now gaining momentum as schools are exploring ways to move away from the current high-stakes achievement culture: Many schools are "...aiming to give students more opportunities to explore their passions, work on real-world projects and collaborate and learn from other students of all ages," Nikhil Goyal, The Wall Street Journal.
The Maryland Transition Digital Portfolio application uses a personalized path system to align just the right project or task assignments with a student's needs. For example, a student that is working towards a career can focus on building their resume, strengthening self-advocacy, and logging their training and experience.
Students submit artifacts (media, images, written work, etc.) in response to assignments, and then work on their project-based assignment by collecting and responding to feedback from teachers, parents, and peers. Once the artifacts are refined, students assemble public portfolios to share with others.
A student can make selected portions of their portfolio public as a website that belongs to them. This extends the self-advocacy benefits of using the transition portfolio by giving the student an opportunity to present themselves to the world in a way that they have control over.
The Maryland Transition Digital Portfolio application can be accessed both on the desktop and on mobile devices. This proved to be invaluable during the pilot with four school districts in Maryland.
"After a successful pilot, we're looking forward to helping our partners at CTE and MSDE roll out The Maryland Transition Digital Portfolio statewide," says Andrew Spangler, Creative Director at No.Inc.
According to Spangler, the successful pilot has generated a lot of interest in the state and the system is currently being looked at for its potential to support other initiatives including general education applications and professional development.
For more information about The Maryland Transition Digital Portfolio, check out the Solution Overview on the No.Inc website.
Since 2000, No.Inc has worked at the leading edge of custom software development for educational institutions and nonprofit organizations. Schools, school systems, and education agencies across the country seek our expertise and our proven technologies to help them redefine the power of data management, tracking, and reporting in educational excellence. Built on processes that emphasize quality, user experiences designed by research and performing at enterprise-scale, No.Inc today is helping set the standard for future-facing educational technology solutions that are friendly and fast.
Contact Information:
No.Inc
3600 Clipper Mill Rd
Suite 440
Baltimore, MD 21211
410-332-0041
james(at)noinc(dot)com
http://www.noinc.com