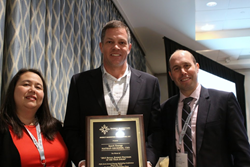 "Congratulations to Spark Energy and Major Energy on winning the EMC awards." - Jack Doueck, Principal, Advanced Energy Capital and Co-Founder of EMC
Houston, Texas (PRWEB) March 08, 2016
Energy Marketing Conferences, LLC announced that its first event in Houston was a huge success. 500+ industry professionals interacted with 22 sponsors, 40 exhibitors, 40 speakers on five interactive panels, and heard from experts on five executive workshops. It was the largest gathering of competitive retail energy professionals ever. The networking breakfast, lunch, breaks and reception were buzzing. Attendees loved the new EMC APP where they were able to interact directly with other attendees and contribute their opinions during the panels. The live country music during the reception was a fitting ending to a productive day in Texas.
The day began with a provocative keynote address by Jay Lewis, CEO of Just Energy Group. The special panel entitled "Reaction to the NY Order" was added soon after the New York Order was announced and was attended by almost everyone at the conference. Other panels were lively, interactive and informational. The last panel was our trademark CEO Roundtable and featured seven CEOs who had a deep expertise in the competitive energy industry and who were extremely open and helpful.
The winner of the 2015 REP of the Year Award was Spark Energy and Nathan Kroeker, CEO was presented with the award at the luncheon. "We received many strong applications from the nominees, but Spark Energy was the clear winner," said Jack Doueck, principal of Advanced Energy Capital and Co-Founder of Energy Marketing Conferences. "In 2015 Spark strengthened its already strong balance sheet, put together a diversified portfolio of multiple brands, using multiple sales channels and multiple vendors. The earned over $30 million last year by providing services to hundreds of thousands of customers in 16 states and 66 utilities and had huge year-over-year growth. Spark now has a proven track record of acquisitions. Maybe most impressive was the simple fact, that an investment of $100,000 in shares of Spark Energy on January 1st 2015 would be worth a whopping $193,000 at year-end. Congratulations to Nathan Kroeker for building a model REP that every startup or small business in the industry can follow," said Doueck.
The winner of the 2015 Most Innovative Marketer of the Year was Major Energy and its CEO Daniel Alper accepted the award. "All the nominees for this award were very creative and showed how they were able to reach customers in unconventional ways and this was a difficult decision for us. Major Energy, with their trademark "Major Energy Moment" really paved the way for other retailers to form mutually beneficial partnerships with professional sports teams. Major is able to make sports fans in New York feel good about its brand by associating it with the "plays of the game," said Larry Leikin, CEO of TrustedTPV and Co-Founder of Energy Marketing Conferences, LLC.
The next Energy Marketing Conference will be back in New York City on Tuesday September 20th 2016 at the beautiful Metropolitan West at 639 West 46th Street at 12th Avenue (right across from the "Intrepid") and just West of Times Square.
To take advantage of early-bird registration for the September conference, visit: http://www.energymarketingconferences.com/registration/.
To see pictures and video from Houston or to learn more about Energy Marketing Conferences, please visit http://www.energymarketingconferences.com.