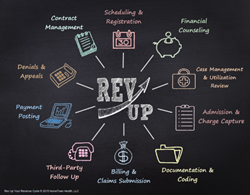 We are able to bring the experience of our 17 years to hospital staff across the country who share in the same financial struggles inherent to this type of hospital.
(PRWEB) March 08, 2016
HomeTown Health is pleased to announce the launch of the 2016 Revenue Cycle Management Training program entitled "Rev Up Your Revenue Cycle" being offered as a part of the FLEX Financial and Operational Improvement Grant in Iowa through the Iowa Department of Public Health. HomeTown Health was selected to provide this online education to assist a portion of the state's Critical Access hospitals in improving their Revenue Cycle and Business Office Practices.
"This program serves as an exciting step for HomeTown Health and our education team," Jennie Price, the project director notes. "We have long been involved in working to ensure the survival of small and rural hospitals, but it has primarily been in the southeast region. By offering this program through online, accredited courses and interactive webinars, we are able to bring the experience of our 17 years to hospital staff across the country who share in the same financial struggles inherent to this type of hospital."
Critical Access Hospitals must have no more than 25 inpatient beds, have an annual average length of stay of no more than 96 hours for acute care, offer 24/7 emergency care and be located at least 35 miles from another hospital, according to HHS. (https://www.cms.gov/Outreach-and-Education/Medicare-Learning-Network-MLN/MLNProducts/downloads/CritAccessHospfctsht.pdf)
"There is no doubt that as a Critical Access Hospital, each facility faces enormous financial challenges. HomeTown Health is an organization that was formed 17 years ago with one purpose: to work together, with hospitals and industry experts, for the survival of rural hospitals." Says Kristy Thomson, COO. "Our focus is solely on the unique needs and challenges of rural and Critical Access Hospitals. One primary area of focus from the beginning of HomeTown has been education, especially in the area of financial improvement and Revenue Cycle practices."
Critical Access Hospitals in Iowa are often faced with narrower margins for a balanced budget, while working to figure out how they fit in the ACA, and are more vulnerable to budget cuts, politics and more significantly impacted by reimbursement cuts within federal programs.(http://www.thegazette.com/iowas-rural-health-systems-face-their-own-challenges-20150118)
Additionally, rural hospitals can have a particularly challenging task of finding fully qualified, experienced candidates to fill various revenue cycle roles. Without training, a hospital of any size can falter; but in a small, rural hospital day-to-day tasks can be overwhelming, and even though training can improve and fine-tune the revenue cycle engine, it is very difficult to find the time to do this. Iowa has one of the largest rural health systems in the country, so the partnership between HomeTown Health and the Iowa Department of Public Health was an excellent fit to satisfy the need to train revenue cycle staff through this grant program.
HomeTown Health recognizes and applauds the participating hospitals for making a commitment to look at their own practices and see where there is room for improvement, and to measuring themselves against best practices that seemingly change quite rapidly. A hospital team who is willing to take the time to focus on areas where they can improve says a lot about their commitment to remaining open, and their commitment to their community. These are hospitals who looked at their Revenue Cycle teams and decided, "we are doing the best we can with what we know; now what can we learn that will continue to make us better, and thus our hospital better?"
Through this grant program, HomeTown Health is partnering in the first year with fourteen of Iowa's CAHs in activities that will improve financial and operational outcomes, specifically by targeting activities that will work towards the goal of improving revenue cycle management and helping to implement activities designed to increase profitability.
One large part of the grant work has been collecting initial Self-Assessments from the participating hospitals that help to measure knowledge levels and current processes taking place in the facilities in the areas of Revenue Cycle. An aggregated analysis of the results of the surveys was performed by Revenue Cycle Specialist and Trainer, Annie Lee Sallee, with HomeTown Health.
"Overall, we believe that there is quite a bit of opportunity to be realized from the surveyed hospitals. The areas of greatest need include financial counseling and billing and collections. Improvements in either of these areas can make an immediate positive impact on cash flow. Within the Rev Up program, the revenue cycle is broken down into focus areas and education is provided on that focus area with a suggestion to complete one area each month. Most, if not all, of the upstream areas such as coding and documentation, can also impact billing and collections. Billing and collections are the final stop point to resolve issues that have occurred at an earlier point in the cycle. It can be expected that improvements across the revenue cycle will ultimately improve a clean claim submission rate and days in accounts receivable." says Annie Lee Sallee. She adds, "within financial counseling, one of greatest areas of opportunity, and some real low hanging fruit, is to ensure elective service deposits are obtained prior to completing the service. This can be simply an awareness issue, or a workflow improvement opportunity."
The "Rev Up Your Revenue Cycle" program that is being provided through this grant activity includes month-to-month online education courses, best practice benchmarks and other resources for the Business Office and Revenue Cycle teams at the participating hospitals. The "Rev Up Your Revenue Cycle" program is designed to increase knowledge and improve facilities processes in ten vital areas: scheduling and registration, financial counseling, case management and utilization review, admission and charge capture, documentation and coding, billing and claims submission, third-party follow up, payment posting, denials and appeals, and managed care contracts. On top of providing standards for each area of the Revenue Cycle, the education will also provide updates on new requirements, such as the PPACA, in each area to ensure a facility is also compliant in its processes.
Since the partnership launch, staff from participating hospitals have enrolled in more than 400 online courses providing education on various aspects of the Revenue Cycle as it relates to their facility - a testimony to the facility's dedication to better improving their processes and employee expertise.
Ms. Sallee, upon reviewing the self-assessments also notes that "understanding the entire revenue cycle and how each part fits within the whole is consistent feedback provided by the hospitals in addition to having best practice solutions and standards. With Rev Up, all staff are able to view education and understand what each point of the cycle must do to ensure the goal of submitting a clean claim. Standards and best practices are provided that enables staff to understand the goal for the organization's success. Without such goals or standards, staff are left to navigate the workload on a day-to-day basis without any clear direction or expected end result. Staff will be able to see how their efforts affect the next point in the revenue cycle." HomeTown Health is confident that the Rev Up education will provide solutions for the needs submitted by hospitals.
Participating in year one of the program are Central Community Hospital, Shenandoah Medical Center, Hawarden Regional Healthcare, Cass County Health System, Van Buren County Hospital, Guttenberg Municipal Hospital, Waverly Health Center, Buena Vista Regional Medical Center, Horn Memorial Hospital, Knoxville Hospital & Clinics, Community Hospital Inc, and Iowa Specialty Hospital - Clarion/Iowa Specialty Hospital - Belmond.
For more information about the Iowa Department of Public Health, please visit http://idph.iowa.gov/. For more details and contact information related to the FLEX program, visit https://idph.iowa.gov/ohds/rural-health-primary-care/flex.
About HomeTown Health
HomeTown Health, LLC is a network of rural hospitals, healthcare providers, and best practice business partners who collectively pursue ways to help its members survive in this environment of constant change in reimbursement, operations and technology. HomeTown Health, LLC is committed to providing legislative representation, best practice solutions and continuing education and training through research and the continuous improvement of processes for healthcare providers. HomeTown health provides online education through HomeTown Health University, an IACET approved CEU provider, offering hundreds of online professional development courses for healthcare facilities. For more information about HomeTown Health University and its online education, visit http://www.hthu.net. For more information about HomeTown Health, LLC visit http://www.hometownhealthonline.com.