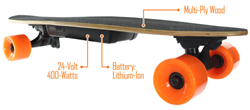 "It's stylish, functional and lightweight. Our board is really going to change the game while offering an incredibly low price that other electronic skateboard makers simply can't match."
Los Angeles, California (PRWEB) March 09, 2016
The Storm Electric Skateboard, the world's most affordable electric skateboard on the market today, has launched its crowdfunding campaign on Indiegogo.
The Storm eSkateboard reaches a top speed of 11 MPH and allows riders to control the direction and pace of the board using simple, low energy level Bluetooth technology.
Riders can enjoy the ride hands free and maintain full control whether riding uphill, downhill or moving swiftly down a straightaway while delivering the same level of performance as similar skateboards that cost between $1,000 and $2,000, yet the Storm is available for just $299.
The Storm is powered by a lithium ion battery that charges in 90 minutes and allows boarders to travel up to 10 miles away from their starting point. Should the board run out of juice during a riding session, it can still be used in the old-fashioned kick-push way.
That flexibility is thanks in large part to the fact the board weighs only 12 pounds, with the motor and Bluetooth capability being attached to the board just four inches off of the ground.
"It's a board that allows riders an incredible amount of freedom without compromising the ability to ride in the traditional way," said Storm founder and CEO John Madden. "It's stylish, functional and lightweight. Our board is really going to change the game while offering an incredibly low price that other electronic skateboard makers simply can't match."
The secret to the incredible price and functionality is that Madden and his team have used their experience and connections in the product development space to get the Storm manufactured overseas. From concept to reality, the board is going to be in the hands of consumers by June 2016, mere months after the launch of the crowdfunding campaign is open for pledges.
"Our vision for the Storm eSkateboard was to try not to compromise anything, including price, quality and performance," says Madden. "Riders are going to get incredible value out of our board. We're truly aiming to make a fun, innovative board accessible to boarding enthusiasts regardless of their budget."
Madden and the makers of the Storm are also offering a 90-day warranty to adopters of the board as part of their Indiegogo campaign launch.
"Riders will be able to roll out on the streets with a free and easy mindset knowing that their board is ready to perform at an optimum level for a long period of time," added Madden.
To learn more about the Storm Electronic Skateboard, visit the Indiegogo campaign here: https://www.indiegogo.com/projects/storm-world-s-most-affordable-electric-skateboard#/