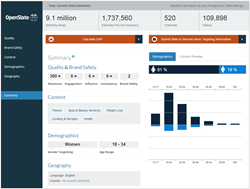 OpenSlate's new planning tool makes the scale of YouTube more approachable and, ultimately, more efficient
New York, NY (PRWEB) March 08, 2016
OpenSlate, the leader in social video analytics, today launched a new audience planning tool that allows advertisers to program and size custom media networks on YouTube. Combining all of YouTube's ad-supported inventory with an advertiser's own definition of content quality, brand safety and subject matter, this new planning tool delivers unprecedented insights about media opportunities on the world's largest digital video platform.
Available for free at http://www.OpenSlateData.com, OpenSlate's YouTube GRP Planning Tool lets marketers easily organize YouTube's inventory into TV-like programming slates and then estimate the reach and demographic composition available for their ad dollars.
"There are now more than 200 million ad-supported videos on YouTube, and finding the perfect combination of content for a given message and audience has never been more challenging," said OpenSlate CEO Mike Henry. "OpenSlate's new planning tool makes the scale of YouTube more approachable and, ultimately, more efficient."
For four years, OpenSlate has produced actionable analytics related to the nature and quality of content on YouTube. With the YouTube GRP Planning Tool, the company is exposing this data in a format that will make sense to TV ad buyers.
"YouTube offers great scale in almost any audience, but the content landscape is complicated, and not all of it is right for every brand," said Scott Marsden, SVP of Media at DigitasLBi. "Combining the right audience and the right content at scale will help brands recognize more value."
In the past 12 months, more than 300 advertisers have used OpenSlate's proprietary scores for quality, brand safety and subject matter expertise to target their YouTube media spending – a threefold uptick from the previous period.
ABOUT OPENSLATE
OpenSlate is a social video analytics firm focused on role of content in brand advertising. Our proprietary metrics about video content quality, brand safety and subject matter are used by hundreds of marketers to target their online video media. OpenSlate measures and scores all ad-supported content on YouTube and offers data that helps brands connect with social video influencers. Our SlateScore is the industry standard for social video content quality. Learn more at http://www.OpenSlateData.com.