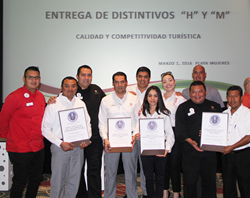 Cancún, Quintana Roo (PRWEB) March 09, 2016
Sunset World Resorts & Vacation Experiences has announced that they have received the Distintivo H accreditation for their hotels HaciendaTres Ríos Resort, Spa & Nature Park, Sunset Royal Beach Resort, Ocean Spa Hotel and Laguna Suites Golf + Spa
Their Cancun and Riviera Maya properties received 35 certifications for the high quality standards of their restaurants and bars
Cancun, Q. Roo (March 2016) Sunset World Resorts & Vacation Experiences received 35 Distintivo H certifications at four of their hotels in Cancun and the Riviera Maya for achieving the highest quality and hygiene standards in the preparation and handling of food and beverages.
As it has done for the past 12 years, the tourist group once again corroborated its commitment to position the Mexican Caribbean as a world class destination in regards to gastronomy by obtaining the highest accolade presented by the Tourism and Health Ministries to hotels and restaurants that comply with the strictest safety norms in that sector.
The hotels receiving this high recognition were Hacienda Tres Ríos Resort, Spa & Nature Park in the Riviera Maya, with 14 Distintivo H certifications for all its restaurants and bars, and the hotel chain's Cancun properties Sunset Royal Beach Resort and Ocean Spa Hotel with 9 certifications each and Laguna Suites Golf + Spa with 3.
In an emotional ceremony held at the Secrets Playa Mujeres hotel, the Deputy Secretary of Planning and Development for the State Ministry of Tourism (Sedetur), Raúl Andrade Angulo, stated that "these certifications are a fitting recognition of the effort and dedication of the tourist sector, but specially to its commitment to quality, which has been a driving force for the competitiveness and development of the state."
"They are tools that allow companies to grow and offer quality services to our visitors, which results in great profitability for business owners," explained Mr. Andrade, adding that for the state government, "it is of the utmost importance to keep on contributing to the training and certification of the sector."
In that regard Isla Mujeres mayor, Agapito Magaña, congratulated the hotels for the great job they do to continually learn and grow in order to offer the best quality and service standards to contribute with the growth of tourism in Mexico.
During the event, which was also attended by the Isla Mujeres Director of Tourism, Gustavo Rodríguez; the Head of the Isla Mujeres Hotel Association, Guadalupe Martínez and the Executive Director of the Cancun and Puerto Morelos Hotel Association, Marissa Setién, it was explained that the Distintivo H represents an added value of confidence and trust for tourists and clients in regards to the handling, preparation, responsible service and intake of food of the highest quality in accordance to the Mexican NMX-F605 NORMEX 2004 norm.