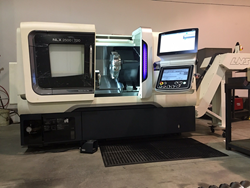 Mentor, OH. (PRWEB) March 14, 2016
Roll-Kraft, a worldwide supplier of custom roll tooling to the tube and pipe and roll forming industry, has installed a DMG MORI NLX 2500 CNC lathe on the factory floor at Roll-Kraft Ltd. in Woodbridge, Ontario.
The NLX 2500 is a high-rigidity, high-precision CNC lathe able to flexibly handle various customer specifications. The model features the BMT (Built-in-Motor) that achieves powerful turning capabilities and outstanding milling performance. The lathe's advanced technological features include a high-speed rotary tool spindle (10,000 min-1), as well as thoroughly controlled thermal displacement for high-precision tooling development.
The addition of the new equipment further advances Roll-Kraft's ongoing commitment to on-time delivery and first-time performance. In the month of December, Roll-Kraft achieved 100% on-time delivery for each and every order of tube and pipe and roll form tooling throughout the company's four locations.
Roll-Kraft's 50+ year history, along with a commitment to new investment, provides the stability and experience necessary to provide its customers with industry-leading on-time delivery and first-time performance.
Roll-Kraft has its headquarters in Mentor, Ohio, and maintains other facilities in Frankfort, Illinois (Roll-Kraft Northern), Houston, Texas (Roll-Kraft Texas), and Ontario, Canada (Roll-Kraft Ltd.). Calls to the company's main line, (888) 953-9400 or (440) 205-3100, are greeted by a live operator who can assist callers in quickly reaching a technician, engineer, or sales staff, who can provide immediate assistance. The company's fax number is (440) 205-3110.
Learn more about Roll-Kraft's products and services by visiting the website at roll-kraft.com. For easy and immediate contact with Roll-Kraft that transcends time zones and working hours, simply complete and submit an online form and Roll-Kraft will respond.