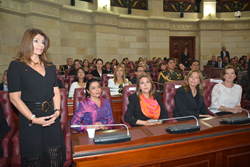 Cancún, Quintana Roo (PRWEB) March 10, 2016
As part of the celebration of International Women's Day, Femyna Foundation in association with the Colombian Press and Media Society, led by former Minister and Ambassador Alfonso López Caballero, presented the Antonia Santos Colombian Order of Social Merit to a group of women from Colombia and other countries who have stood out for their leadership and social commitment with the great causes of Colombia, with the firm conviction of doing their bit for that country.
It is an award bestowed to women who are emblematic due to their work as business women, civil servants, scholars, researchers, movers and shakers and artists that through their work, commitment, solidarity and drive contribute to the improvement of nations. They are women who work to promote a more just society for all people and make an effort to build more democratic and equitable relationships.
"Journalists have the obligation of participating in both the communal and political realms and also have the role of acknowledging those valuable leaders that contribute to the well-being of a country," stated Gustavo Casasbuenas Vivas, Executive President of the Colombian Press Society, adding that this award acknowledges the leadership that the Mexican Erika García has shown in favor of the social causes of Colombia in her entrepreneurial role as CEO of Vacacionante and the Foundation Vacaciones con Causa (Vacations with a cause) that are part of Sunset World.
The award ceremony took place on Monday March 7th at the Boyacá function room of the Colombian Congress and was chaired by Honorary President Alfonso López Caballero, son of former Colombian President Alfonso López Michelsen; former Deputy Inspector General of Colombia, Martha Isabel Castañeda; former First lady of Colombia, Martha Blanco de Lemos and Congressman Telésforo Pedraza, among other personalities of Colombian society.
This honor has been bestowed at previous occasions to dozens of other outstanding women in Colombia such as Vice-Ministers Carmen Eugenia Dávila and María Carolina Hoyos, the Chairwoman of the Colombian Society of Engineers, Diana Espinosa, several Ambassadors to Colombia and business women of different productive sectors.
About Antonia Santos
María Antonia Santos Plata (Pinchote, April 10th 1782 - El Socorro, July 28th 1819) is one of the heroines of the Colombian Independence movement. Considered as one of the most representative female figures of that fight together with Policarpa Salavarrieta, Antonia Santos joined the cause led by Simón Bolívar. She created the "Coromoro Guerrilla", the first set up in the Socorro province, in order to fight against the Spanish invasion. Her brother Fernando Castilla Castilla became one of the leaders of the guerrilla. This group hijacked the communications of the royal troupes, provided the rebel forces with information and supplies and played an important role in the Pantano de Vargas and Boyacá battles.
Betrayed by one of her friends, Antonia Santos was arrested and executed on July 28th 1819, guilty of high treason. In honor of her heroic actions, the ASPC #7 battalion of the seventh brigade, fourth division of the National Colombian Army, was named "Antonia Santos" after her. Of her descendants (nephews), Eduardo Santos and Juan Manuel Santos were presidents of Colombia in 1938 and 2010, respectively.