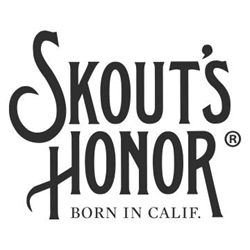 "The most important member of the Skout's Honor family is our customer - and this partnership helps us to provide the superior services and support our brand has become known for." - Pete Stirling, VP Customer Development
IRVINE, Calif. (PRWEB) March 10, 2016
Skout's Honor, the company that offers BETTER, FASTER and STRONGER household cleaning products for everyday pet messes and odors, today announced its next US distribution partnership with Central Garden and Pet – which ensures a new level of product distribution nationwide.
Central Garden and Pet is one of the nation's largest wholesale suppliers of pet products with distribution facilities across the United States. At Central Garden and Pet, home is the heart of activity. For family and friends, humans and pets, its focus is to provide consumers with high-quality, innovative products that simplify and beautify outdoor living spaces and create fun and healthy interaction with pets.
"We are excited to be aligned with an organization who is so closely committed to the success of our brand and product line," said Pete Stirling, VP Customer Development, Skout's Honor. "We know Central Garden and Pet will help create strong results for our retailers. The most important member of the Skout's Honor family is our customer and this partnership helps us to provide the superior service and support our brand has become known for."
Skout's Honor's line of professional-strength cleaning products for pets includes a Stain & Odor Remover, Odor Eliminator, Urine Destroyer, Patio Cleaner & Deodorizer, Litter Box Deodorizer and Cat Urine and Odor Destroyer. Through its Skout's Paw Pledge, the company also donates a day's worth of food for a shelter animal in need with every product sold, empowering pet owners to do more with each purchase.
Skout's Honor products leverage BioKore™ technology and/or a rapidly biodegradable molecular deodorizer to provide pet owners with BETTER, FASTER, STRONGER environmentally and socially conscious cleaning solutions.
Skout's Honor products come in a 32 oz. spray bottle for $14.99 each (MSRP), and are also available for purchase online or Amazon.com. For specific retail locations, please visit the store locator.
Skout's Honor
Skout's Honor is a company based in Irvine, Calif. that offers high-quality household pet cleaning products including a Stain & Odor Remover, Odor Eliminator, Urine Destroyer, Litter Box Deodorizer, Cat Urine & Odor Destroyer and Patio Cleaner & Deodorizer. Founded by a team of animal lovers and proud pet owners, the company created its "Skout's Paw Pledge," and donates a day's worth of food for a shelter animal in need with every product sold. In addition to being available at a variety of pet specialty retailers nationwide, the entire line of next generation green cleaning products is available for purchase on Amazon.com or the Skout's Honor website. For more information on the products and for specific retailers, please visit SkoutsHonor.com