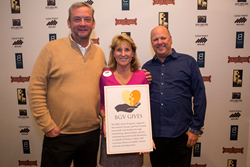 Executive Director of the Summit Foundation, Jeanne Bistranin expressed gratitude for BGV's contributions stating that, "The partnership between Breckenridge Grand Vacations and the Summit Foundation is a very beautiful thing."
Breckenridge, Colorado (PRWEB) March 09, 2016
On the evening of Tuesday, March 8th, Breckenridge Grand Vacations (BGV) hosted their Inaugural Giving Reception at the Beaver Run Resort and Conference Center in honor of the late BGV Developer, Rob Millisor.
This event not only served as an opportunity to pay tribute to Rob's passion for giving back and thank the multitude of charitable organizations BGV partners with, but also to introduce their new philanthropic program, BGV Gives. Attendees included non-profit and grant recipients, community leaders and donors, the BGV Executive Team and collaborators from various local charities.
Developers Mike Millisor and Mike Dudick delivered a heartfelt presentation commemorating Rob's humanitarian work and how it inspired a company culture of giving. Empowered to follow in his steps, the company is increasing their already substantial charitable efforts by initiating the BGV Gives Program.
Executive Director of the Summit Foundation, Jeanne Bistranin expressed gratitude for BGV's recent one million dollar endowment, stating that, "The partnership between Breckenridge Grand Vacations and the Summit Foundation is a very beautiful thing." She also noted that volunteer contributions by BGV employees have significantly benefited the community's fundraising efforts with the Rubber Duck Races, Summit Foundation Golf Tournament, medallion donations and more.
The uplifting celebration came to a close with the introduction of the first ever BGV Gives Program Manager, Deb Edwards. Deb has dedicated much of her life to helping others and fundraising in Summit County, and expressed her enthusiasm to help BGV extend their philanthropic reach and impact in the community. For more information about BGV Gives, please contact Deb Edwards at (970) 547-8747.
About Breckenridge Grand Vacations
Created in 1984, Breckenridge Grand Vacations (BGV) was built by brothers Mike and Rob Millisor and friend Mike Dudick upon the belief that the success of their company would be determined by the positive impact it had on their owners and guests, employees and the community. The developers of the company also embraced the concept that BGV would be the best in sales if they were first and foremost the best in customer service. The company has embraced the Net Promoter methodology company-wide and consistently beats industry averages with its high scores. BGV now creates Grand vacations for over 23,000 owners and employs over 500 staff members.
Sadly, Rob Millisor passed away in October, 2015 while on a humanitarian visit to Nepal. His example and service to the needs of others remains a strong focus with BGV's leadership and staff. He is greatly missed and his legacy of success and giving continues.