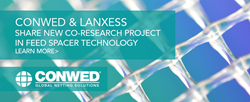 Minneapolis, Minnesota (PRWEB) March 10, 2016
Conwed, the leading plastic netting manufacturer in the world, and Lanxess, a global specialty chemical company, shared their latest co-research project in feed spacer technology for Reverse Osmosis (RO) applications. Published by the Filtration + Separation Magazine on its January-February 2016 issue, this editorial — available in print and digital formats to all of their subscribers — covers how Conwed and Lanxess acknowledged the top three challenges in every RO system — pressure drop, membrane damage and biofouling — and tested different feed spacer geometries to understand their impact on RO systems' performance.
Through its Liquid Purification Technologies (LPT) business unit, Lanxess is one of the world's most prominent suppliers of products for treating water and other liquid media. With its newest Lewabrane® membrane elements, powered by a Conwed feed spacer with novel technology called Alternate Strand Design (ASD), Lanxess promotes optimized flow in the RO element, with a low pressure drop and therefore, lower energy consumption.
Conwed manufactures a full line of feed spacers used in RO spiral wound elements. An RO spiral wound element is a filter comprised of different layers. It contains membrane, feed spacer and permeate sheets rolled up around a product collection tube. The feed spacer provides the necessary gap between other layers to promote turbulence of the feed stream. Depending on the chemical and design configuration, feed spacers can influence membrane damage, biofouling and pressure drop; the three main challenges in reverse osmosis. "Our R&D and engineering teams in Europe and the U.S. were enthusiastic and committed to this co-research project. Lanxess is a leader in the liquid purification arena and their expertise in water filtration allowed us to map the impact of different feed spacer geometries and designs in reverse osmosis systems", said Ivan Soltero, Sr. Strategic Marketing Manager at Conwed.
Reverse osmosis is a water treatment technology widely used around the world. According to the International Desalination Association (IDA), reverse osmosis technology accounts for nearly 65% of total worldwide installed desalination capacity. For most RO plants, energy is the key word. An RO plant typically needs at least 150 psi and can require as much as 1,000 psi to efficiently operate its RO arrays. Pressure at those levels consumes a large amount of power. Therefore, a change in pressure drop is a key measurement of the energy efficiency of an RO plant. Given the tremendous volume of water processed by RO plants, and the SHA NEW high energy costs, even the smallest improvement in efficiency can translate into large savings or increased product water output. "Our co-research project with Lanxess confirmed the next wave of innovation in the RO industry could come from the feed spacer. Their new Lewabrane® elements powered by Conwed ASD feed spacers are the result of our collaborative effort to impact overall performance and energy consumption for RO plants," said Bert Paesen, Business Development Manager at Conwed.
To know more about Conwed and its reverse osmosis joint efforts visit http://www.conwedplastics.com/ro-joint-efforts
About CONWED
Conwed is the leading plastic netting manufacturer in the world. Conwed manufactures extruded, oriented and knitted netting with unique customization capabilities. Headquartered in Minneapolis, Minnesota, Conwed has five manufacturing locations on two continents and a global distribution network.