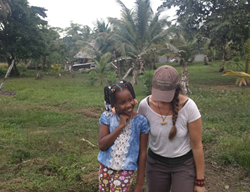 "Our mission has always been to make fresh food available to those who lack resources, and to make an impact on nutrition and health," said Armes.
Bloomington, IN (PRWEB) March 14, 2016
Garden Tower Project's recent expedition to Nicaragua is the Indiana-based company's first step in joining a groundbreaking multi-organizational, social enterprise project called "Finding Corte Magore," which, as part of its mission, will help develop viable food-growing solutions for the Caribbean Coast region. One-third of Nicaragua's children drop of school before reaching 6th grade—the children must work in order for their families to survive in a climate with scarce resources, and little to no self-sustaining food growing opportunities.
The Finding Corte Magore Project, a California Benefit Corp, creates a specific public benefit of impacting poverty through sustainable eco-tourism in poor countries. The corporation stemmed from children's book author, Tonia Allen Gould's desire to make a fictional place in her children's book, Samuel T. Moore of Corte Magore, real—for social and environmental good. That goal led the author and her team to the developing nation of Nicaragua where Tonia and her team learned the plight of the children. Finding Corte Magore is about imparting social change through the use of a 29-acre island called Corte Magore at Hog Cay, Nicaragua. The island will serve as a beacon of hope and a model of research and innovation for developing nations to improve their socio-economic status through increased sustainability, agriculture and education.
Through a twist of fate, Gould recently reconnected with a high school classmate, Kristi Armes, who works with the Garden Tower Project and the two quickly learned that their organizations' missions were complementary, and that teaming up could add an important tool to Gould's endeavor.
Garden Tower Project is working to help transform the face of gardening and food sustainability. The project is focused on teaching that food security is more than just growing your own food; it is also about growing healthy food with the resources available. In an era of rapidly rising food prices and industrial farming practices that strip food of nutrients essential for good health Garden Tower believes that each person has the ability to be self sustaining—and teaching someone to grow food means they will eat not just for a day, but for a lifetime.
"When I learned about Garden Tower Project I saw incredible value in bringing them into the project," said Gould. "Food is such an important component in helping the region. If families can grow their own food, it is important step toward removing the need for their children to work just to survive. We want to make going to school a reality for these kids and to make education a priority for the region."
Three members of the Garden Tower Project Team traveled to Corte Magore in January on a discovery mission to analyze the area's food, soil and growing challenges and will now begin to put their gardening expertise to work in Nicaragua. The team plans to set up a pilot Garden Tower 2 (GT2) container gardening system and will monitor the growing progress during the coming months to determine how families in Nicaragua can nourish available soil to grow their own fruits and vegetables that will not only thrive in the tropical climate, but also meet cultural staples for the population.
"Our mission has always been to make fresh food available to those who lack resources, and to make an impact on nutrition and health," said Armes. " Now we have an enhanced mission to put our Garden Tower to the ultimate test—introducing not just a way for people to the grow their own food, but changing cultural trends to embrace self sustainability."
The GT2 is already known as one of the best technologies in food sustainability by making growing organic vegetables a reality in locations that have never before been capable of nourishing plants, like flat rooftops, concrete slabs and especially in area's with resource challenges like Nicaragua. By growing plants vertically in a soil based system it enables one to grow 50 plants or more in just 4 square feet without the use of electricity. The container garden is self-fertilizing and only needs a fraction of the water required in traditional garden plots.
"This is just the launching point for our involvement in the Finding Corte Magore project," said Armes. "We are excited to be part of the transformational change that is beginning in Nicaragua, and look forward to exploring how the Garden Tower Project can contribute to the mission."
Learn more at http://gardentowerproject.com and follow on Twitter @TheGardenTower and Facebook https://www.facebook.com/GardenTowerProject.
For information on Finding Corte Magore visit http://www.findingcortemagore.com/ and follow on Facebook at https://www.facebook.com/SamuelTMooreofCorteMagore/.
About Garden Tower Project LLC: A socially responsible business concept based in Bloomington, Ind. Garden Tower Project strives to ensure easy availability of fresh, organic food, particularly for people who lack access to growing space. Garden Tower Project has been recognized by the International Design Awards for excellence in Sustainable Living/Environmental Preservation. Garden Towers are now being used to grow food in all 50 states, throughout Canada, Europe and Australia.
About the Finding Corte Magore Project: The Finding Corte Magore Project works virtually to connect a global community of students, environmentalists, university researchers, and funders to the plight of educationally and economically repressed Nicaragua through land-use and human empowerment strategies.
The project incorporates eco-tourism, education, social entrepreneurialism, and environmentalism by showcasing and managing one of the country's own beautiful islands - henceforth called Corte Magore at Hog Cay, Nicaragua - to create awareness and sustainable, long-term impact on the country's people.