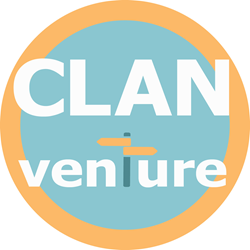 "Every time we wanted to go on vacation, I'd sort through hundreds of homes and ask tons of questions," Nikki says. "It took eons – who has that kind of time?"
Austin, TX (PRWEB) March 15, 2016
Newly launched travel site Clanventure.com offers an innovative way to search for kid-friendly vacation rentals. Born out of founder Nikki Woodson Blair's frustration over the time and effort required to sift through rental properties that would actually suit her family's needs, the company hand-picks houses and condos that cater specifically to families traveling with young children. "Every time we wanted to go on vacation, I'd sort through hundreds of homes and ask tons of questions," Nikki says. "It took eons – who has that kind of time?"
Nikki is not alone: A 2014 MasterCard survey found that 89% of Americans stress over planning their family vacations, and 44% of respondents say finding family-friendly accommodations is a top concern.
At Clanventure.com, travelers can search family-friendly vacation home rentals by entering their preferred dates and location. The site's user-friendly interface includes icons to indicate which properties are baby-equipped, toddler-safe, and/or suited for kids ages 3-5+. There's also a Gear Guarantee, which means that all of Clanventure's properties come with toys and games, rooms with nightlights and blinds, protected pools, kid-safe dishes and utensils, and family entertainment options.
Nikki created Clanventure after her family rented picturesque-looking vacation homes that turned out to be more nightmare than dream come true. On a trip to Mexico, she envisioned relaxing on a lounge chair while her two young children played peacefully on the shore. "But when we arrived, we found several levels with stone steps and stairways with open, unprotected balconies," she says. "I caught one of the kids dangling from an open balcony post while I was trying to fix lunch – in the nick of time!" Clanventure ensures that rentals claiming to be "family-friendly" actually are.
Clanventure joins a number of niche vacation rental marketplaces catering to hurried travel planners who face an exploding number of options. Industry blogger Matt Landau of VRMB.com says, "As the vacation rental industry evolves, specialization will begin to cut through the noise and sites like Clanventure -- the sites that speak directly to a specific type of traveler, in this case, child-friendly rentals -- add tons of value and set themselves apart from the competition for good reason."
In addition to travel tips and other resources for traveling families, Clanventure offers a Vacation Rental Finding Service, where customers can pay a flat fee to have the company's team sift through rentals for them after providing parameters and preferences.