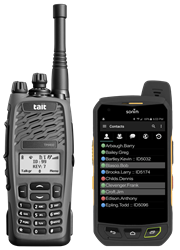 ESChat's advanced P25 (ISSI) and DMR (AIS) interoperability is available for Cloud and On-Premises customers.
San Luis Obispo, CA (PRWEB) March 11, 2016
SLA is pleased to announce advanced Land Mobile Radio (LMR) integration into its ESChat product line for both P25 and DMR radio network technologies. ESChat's advanced integration provides the ability for broadband Push to Talk users on 4G/3G/WiFi to securely interoperate with users on P25 and DMR radio networks, supporting multiple call modes and GPS location capabilities.
ESChat's full featured implementation supports a host of new features including private, group and emergency call types using the native ISSI or AIS interfaces. Interoperability as a Service is available for P25 and DMR customers using cloud hosted solutions. Interoperability as a Service is an efficient and inexpensive option for customers wanting to add advanced interoperability to their agency or company radio network. Advanced LMR integration is also available for customers using ESChat's on premise server solutions.
As LMR customers look to integrate with or transition to LTE based Push to Talk solutions, they want to ensure there is no loss of capability. ESChat's advanced LMR integration supports multiple call types native to the P25 and DMR radio networks. These include Private (one-to-one) calls, Standard Talk Group Calls and Emergency Group Calls. ESChat is the leading provider of secure Push to Talk over LTE service for military, public safety and commercial communication markets.
Because of the standards based implementation of ESChat's LTE to LMR integration, customers that require Local Dispatch Consoles can take advantage of P25's console sub system interface (CSSI) or DMR's AIS interface to connect any top tier console to the network.
ESChat currently includes integrated real-time GPS location tracking and mapping within its secure Push to Talk platform. With GPS and Text messages now available in many of the newer P25 and DMR radio products, ESChat is adding radio location to its current tracking interface, and providing the most advanced common operational picture (COP) and communication platform available to the non-military markets.
ESChat's advanced LMR interoperability will be on display at IWCE in Las Vegas Nevada on March 23 and 24 2016. ESChat's P25 demonstration will include interoperability with a Tait Radio (http://www.taitradio.com) network and an Avtec (http://www.avtecinc.com) Scout dispatch console. ESChat's DMR demonstration will include interoperability with a Simoco (http://www.simocogroup.com) radio network.
ABOUT SLA CORPORATION:
ESChat (http://www.eschat.com) by SLA is the leading provider of carrier independent Secure Push to Talk (PTT) over LTE communications. ESChat includes AES-256 encrypted PTT voice and multimedia (text and image) messaging. ESChat also provides live and historical (bread crumb) tracking and mapping. Currently used by the U.S. Military as well as Federal, State and Local law enforcement, ESChat is able to operate over FirstNet Band 14 LTE spectrum, commercial carriers and WiFi. ESChat supports interoperability with all LMR radio networks, including P25 via the native Inter RF Subsystem Interface (ISSI) protocol and DMR via the native Application Interface Specification (AIS).