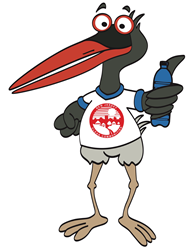 Trenton, NJ (PRWEB) March 11, 2016
As the New Jersey Clean Communities Council (NJCCC) prepares for its annual conference in May, organizers will unveil the creation of the "New Jersey Beach Bird," to raise awareness about recycling.
The Beach Bird project, co-sponsored by The Coca-Cola Company, is a sculpture constructed from recyclable plastic bottles collected by Atlantic City students and beyond. The Beach Bird will be highlighted at the NJCCC's annual conference on May 25-26 in Atlantic City. The sculpture will be on display at Boardwalk Hall.
The Beach Bird is the creation of Willie Cole, an international artist and New Jersey-based sculptor. Students throughout the state will be closely watching the evolution of the sculpture through an interactive website, NJBeachBird.org, which will depict the art in development.
The website will also feature a naming contest for the Beach Bird, games, an interactive portal for Q&A with the Beach Bird and a pen pals option.
In addition to naming the Bird, students may design their own Beach Bird. The winning submissions will be showcased as table centerpieces at the gala dinner during the May conference at the Tropicana Hotel.
"This is all about creating a close bond between the children of New Jersey and the Beach Bird, as well as having a lot of fun," explained NJCCC Executive Director Sandy Huber. "Moreover, this is a platform in which we can educate students about litter management. The Beach Bird is the ideal visual example of the importance of removing litter from our roads, rivers, banks and beaches."
The Beach Bird has received the generous support of The Coca-Cola Company, who has several programs around recycling, water stewardship and sustainability. "We are pleased to provide support for the New Jersey Beach Bird," said Mike Sullivan, Vice President of Sales Operations, Coca-Cola Refreshments. "This innovative project dovetails perfectly with our company's ongoing efforts to encourage recycling – especially among youth who need to be educated about the importance of reuse."
Learn more about this project at NJBeachBird.org, and visit often for updates. Learn more about Clean Communities, or about sponsorship opportunities for the May conference, at NJClean.org.