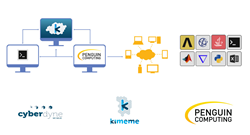 FREMONT, CA (PRWEB) March 14, 2016
Penguin Computing, a provider of high-performance computing, enterprise data center and cloud solutions, today announced the availability Cyber Dyne's KIMEME software on Penguin Computing's POD public HPC cloud service.
"It's now possible to submit and manage large DOEs and optimization simulations flawlessly in the cloud," said Ernesto Mininno, CEO, Cyber Dyne. "These tasks are much easier and faster thanks to the computational power of Penguin Computing's POD HPC services."
Cyber Dyne's KIMEME software is a fast, user-friendly optimization platform for computer-aided engineering applications. It allows integration of complex process design, execution of DOEs, distribution of calculations and data mining with just a few clicks.
"This is the first solution for DOE and numerical optimization that is directly integrated with an advanced cloud service such as Penguin Computing's POD," said Tom Coull, President and CEO, Penguin Computing. "Users can easily combine local computational infrastructure with remote queues in the cloud, to speed-up simulation batches on demand in a highly scalable and flexible manner."
"With the native integration of KIMEME with POD, I no longer need to worry about computing power, either the hardware or the complex parallel implementations," said Dr. Ferrante Neri, Full Professor of Computational Intelligence Optimization, De Montfort University (UK). "Running my experiments on the cloud has never been so easy."
Combining the capabilities of the two companies will result in an attractive offering for Cyber Dyne and POD users who need to run complex workflows involving massive numerical simulations with popular CAE software such as ANSYS, OPENFOAM and StarCCM+, among others.
Late last year Penguin Computing announced availability of its OCP-compliant Tundra™ platform on POD. Tundra on POD, enabling thousands of new high-speed cores, demonstrates the value of open computing and meets CIO customer interest in faster, easier deployment of capacity. The integration of Tundra and POD also proliferates open computing to the marketplace. Visit https://pod.penguincomputing.com for more information about POD and http://www.cyberdyne.it to learn about Cyber Dyne.
About Penguin Computing
Penguin Computing is one of the largest private suppliers of enterprise and high performance computing solutions in North America and has built and operates the leading specialized public HPC cloud service Penguin Computing on Demand (POD). Penguin Computing pioneers the design, engineering, integration and delivering of solutions that are based on open architectures and comprise non-proprietary components from a variety of vendors. Penguin Computing is also one of a limited number of authorized Open Compute Project (OCP) solution providers leveraging this Facebook-led initiative to bring the most efficient open data center solutions to a broader market, and has announced the Tundra product line which applies the benefits of OCP to high performance computing. Penguin Computing has systems installed with more than 2,500 customers in 40 countries across eight major vertical markets. Visit http://www.penguincomputing.com to learn more about the company, and follow @PenguinHPC on Twitter.
Penguin Computing, Scyld ClusterWare, Scyld Insight, Scyld HCATM, Relion, Altus, Penguin Computing on Demand, POD, Tundra and Arctica are trademarks or registered trademarks of Penguin Computing, Inc.
Penguin Computing Media Contact:
Phillip Bergman
Viewstream
Email: pbergman(at)viewstream(dot)com
Cell: 845-728-3984