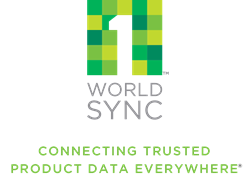 "1WorldSync simplifies product data synchronization, by providing enterprises with a single connection to distribute and aggregate trusted product information across entire global trading communities," said Rolf Stark, VP of Global Business Development
Lawrenceville, NJ (PRWEB) March 14, 2016
1WorldSync, the leading multi-enterprise product information network, today announced that Informatica is now a 1WorldSync Certified Solutions Partner. Informatica is the world's independent software provider focused on delivering transformative innovation for the future of all things data.
1WorldSync's Product Information Cloud platform, combined with Informatica's Major Release 3 certified GDSN® Accelerator, will easily link customers' backend systems with the Global Data Synchronization Network™ (GDSN). This will deliver consolidated and reliable business critical information to applications enabling customers to streamline product introductions and fulfill compliance needs, such as new food regulations.
"1WorldSync simplifies product data synchronization by providing enterprises with a single connection to distribute and aggregate trusted product information across global trading communities," said Rolf Stark, vice president of Global Business Development at 1WorldSync. "1WorldSync's unique global expertise and GDSN certified connection, combined with Informatica's market leading master data-fueled MDM-Product 360 (PIM) application, enables customers to manage their supply chain and product introduction more effectively."
With their GDSN Major Release 3 (MjR3) recertification in January 2016, Informatica was the first Master Data Management (MDM) solution that successfully complied with the major update for both, supply and demand side. Rob Karel, vice president of Product Strategy and Marketing, Information Quality Solutions, Informatica, said, "Trusted and accurate product data powers effective omni-channel commerce, improves sales performance and helps businesses meet compliance regulations. Our integration with 1WorldSync gives our customers unparalleled collaboration between manufacturers, brands, suppliers and retailers, offering secure and efficient exchange of great data." Informatica's GDSN Accelerator is used on top of Informatica's MDM solution to help retailers and manufacturers provide data to or consume data from 1WorldSync.
Both business customers and consumers will benefit from this new partnership. Joint customers, such as large international food manufacturers, food service providers or retailers will be able to deliver all required product information at all customer touch points. Using Informatica's 1WorldSync certified solution can also improve customers' product data quality and accuracy, provide more detailed product information (e.g., allergen and nutrition facts), and help ensure regulatory compliance.
About 1WorldSync
1WorldSync is the leading multi-enterprise product information network, helping more than 17,000 global brands and their trading partners in 60 countries – share authentic, trusted content in the hands of their customers and consumers, empowering them to make the right choices, purchases or health and lifestyle decisions.
Through its solutions, technology platform and expert services, 1WorldSync provides solutions that meet the diverse needs of its customers. For more information, please visit http://www.1worldsync.com.
About Informatica
Informatica is a leading independent software provider focused on delivering transformative innovation for the future of all things data. Organizations around the world rely on Informatica to realize their information potential and drive top business imperatives. More than 5,800 enterprises depend on Informatica to fully leverage their information assets residing on-premise, in the Cloud and on the internet, including social networks. For more information, call +1 650-385-5000 (1-800-653-3871 in the U.S.), or visit http://www.informatica.com. Connect with Informatica at https://linkedin.com/company/informatica, https://twitter.com/Informatica and https://facebook.com/InformaticaLLC.
###
Note: Informatica is a registered trademark of Informatica in the United States and in jurisdictions throughout the world. All other company and product names may be trade names or trademarks of their respective owners.