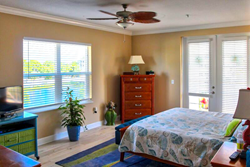 After looking around, we realized that no other developer in the area can compare. We fell in love with the design--the closeness to Palma Sola Bay and the beautiful sunsets--and we knew we had to make this home. - Resident Bob Beck
Bradenton, FL (PRWEB) March 16, 2016
Bradenton resident Bob Beck lives and breathes Manatee County. After years in the newspaper business and moving across the U.S., he and his wife, Diane, made 'The Friendly City' their permanent home back in 1991. The ambitious businessman, now founder and CEO of Automated HR Solutions, LLC, wasted no time immersing himself in local non-profit organizations, various service organizations and taking on roles such as Chairman of the Manatee Chamber of Commerce, Suncoast Workforce Board, United Way of Manatee County and Meals on Wheels of Manatee. After years of working closely with community officials, running a number of private businesses and engaging in many of Bradenton's cultural activities, the Becks settled into a new chapter of life last June: Choosing the beautiful bayside community of Palma Sola Bay Club as their new home. The community recently received six awards in the local 2016 Parade of Homes hosted by the Manatee-Sarasota Building Industry Association.
"We wanted to make a move but didn't want to go far in Bradenton because we love the area," says Beck. "After looking around, we realized that no other developer in the area can compare. We fell in love with the design--the closeness to Palma Sola Bay and the beautiful sunsets--and we knew we had to make this home." The flourishing community is the 2016 Parade of Homes overall winner in multiple categories, which makes the Becks incredibly proud. The developer currently has six buildings on the market with a goal of constructing 23 nine-unit complexes. "We love this place. It's close to the fun, yet far from the crowds," the resident says. "It's amazing to see that each day the community is growing; there are more activities happening, more amenities being added, the 'snowbirds' have returned for warm weather and everyone is getting to know each other."
The heated clubhouse pool is among Beck's favorite residential amenities, due to the fact that he and Diane can socialize with other "pool regulars". They also enjoy the fire pit and barbecue area, perfect for "throwing one heck of a party!" With an observation deck overlooking the bay, winding biking and walking paths and three wildlife ponds, along with a preserve, the community is continuing construction on its diverse set of features.
Relaxing poolside and hosting friends aren't the Becks' only pastime. The couple continues the project of decorating their spacious condo with an all-too-appropriate 'coastal' theme. "Our old home had a tropical vibe," says Beck. "When we moved here, the 'coastal theme' just felt right. So we've been reengineering our space to have an open, beachy ambiance." The couple attributes this well-designed, picturesque feel to the condo's vast windows, gorgeous views of the water, custom white oak flooring and custom wall coloring. "Living in Palma Sola Bay Club is so unique," shares Beck. "It's not built in a sprawling suburb, but in an already developed area along the bay. There's nothing like it and we feel really good about that."
About Palma Sola Bay Club
Palma Sola Bay Club is a condominium community in Bradenton, Fla., located just minutes from the beach, downtown Bradenton, Fort DeSoto National Park and Robinson Preserve. Developed by Prospect Real Estate Group, this exclusive, gated community, when completed, will consist of 23 four-story buildings, each including nine residences, underground parking and built-in elevators. The condominium-style residences, many with sweeping views of beautiful Palma Sola Bay, feature a unique blend of Key West and Florida coastal-inspired architecture, along with interior that includes high ceilings and abundant natural light.
The two and three-bedroom condos are 1,657 and 1,857 square feet with prices starting from the low $300,000's. Visit http://www.PalmaSolaBayClub.com or call 866-217-2770 for more information. To learn more about the community's participation in the Manatee-Sarasota Building Industry Association's Parade of Homes, click here.