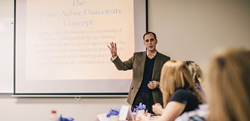 There is a huge demand for nurses within the current job market, and that's only going to increase.
Spring Arbor, Mich. (PRWEB) March 16, 2016
Spring Arbor University is pleased to announce that it is adding a Bachelor of Science in Nursing program for its traditional undergraduate students on campus, beginning this coming fall. SAU has offered a BSN program to adult learners at its various sites throughout the state for over a decade, and is now ready to build on that foundation in the context of a Christian liberal arts education on campus.
"This is a very exciting prospect," says Al Kauffman, chair of Spring Arbor University's nursing program. "In the past, we've received a lot of inquiries from current and recently graduated high school students who want to pursue their BSN. We don't have to turn them away now."
Future students are interested in the nursing field with good reason. The number of care providers needed for the sizable aging population will dramatically increase as they retire over the next decade. The median age of today's working nurse is 40, with the demand for new nurses expected to increase exponentially into 2030 (according to the American Association of Colleges of Nursing). "There is a huge demand for nurses within the current job market, and that's only going to increase," says Malachi Crane, vice president for enrollment and marketing at SAU. "Both employers and students are excited that we're expanding the program to our Spring Arbor campus."
When the first undergraduate BSN students arrive on campus, they will have access to a unique clinical resource: a brand-new simulation lab. This space is designed to provide students an environment to practice the clinical skills they will later utilize in caring for and interacting with patients. Few nursing schools within the state have on-site facilities, putting clinical space at a premium, a fact that uniquely positions SAU as having a premier undergraduate nursing program.
Another distinctive feature of the program is SAU's focus on ministry in all vocations. "Our approach to nursing fits the applications of the liberal arts into a missional framework," Kauffman says. "I think we have an opportunity to exemplify the mission of Spring Arbor — to send out really well-prepared nurses to represent the Kingdom of God. But we also have an opportunity for them to recognize the value of a liberal arts education. They can better understand why their work is important, what their program is about, and they'll be better nurses for it. They'll be excellent nurses."