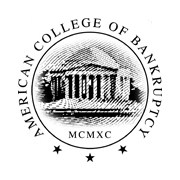 Washington, DC (PRWEB) March 14, 2016
The American College of Bankruptcy announced today that the following insolvency professionals will be inducted as Fellows in the 27th Class of the College on March 18, 2016 in Washington, D.C.:
Robert S. Bernstein
Bernstein-Burkley, P.C.
Pittsburgh, PA
Mark S. Chehi
Skadden Arps
Wilmington, DE
Roger A. Clement, Jr.
Verrill Dana LLP
Portland, ME
Kathryn A. Coleman
Hughes Hubbard & Reed LLP
New York, NY
Kelley A. Cornish
Paul Weiss
New York, NY
Josiah M. Daniel, III
Vinson & Elkins LLP
Dallas, TX
Robert C. Furr
Furr and Cohen, P.A.
Boca Raton, FL
Douglas R. Gooding
Choate, Hall & Stewart LLP
Boston, MA
Robert C. Goodrich, Jr.
Burr & Forman LLP
Nashville, TN
Michael E. Jacoby
Phoenix Management Services LLC
Chadds Ford, PA
Ori Katz
Sheppard Mullin
San Francisco, CA
Sidney P. Levinson
Jones Day
Los Angeles, CA
James A. Lodoen
Lindquist Vennum LLP
Minneapolis, MN
John P. Melko
Gardere Wynne Sewell LLP
Houston, TX
Julio E. Mendoza, Jr.
Nexsen Pruet, LLC
Columbia, SC
James Alan Mesterharm
AlixPartners LLP
Chicago, IL
Neil Narfason
Ernst & Young Inc.
Calgary, AB, Canada
Nina M. Parker
Parker & Associates
Winchester, MA
Deborah L. Petersen
Petersen Law, PLLC
Council Bluffs, IA
Kathy Bazoian Phelps
Diamond McCarthy LLP
Los Angeles, CA
Stathis Potamitis
Potamitis Vekris
Athens, Greece
Prof. John A.E. Pottow
University of Michigan Law School
Ann Arbor, MI
Julie E. Rabin
Rabin & Rabin Co., L.P.A.
Cleveland, OH
Lisa M. Schweitzer
Cleary Gottlieb Steen & Hamilton LLP
New York, NY
Mark K. Thomas
Proskauer Rose LLP
Chicago, IL
Hon. William T. Thurman
U.S. Bankruptcy Court
Salt Lake City, UT
Hon. Maureen A. Tighe
U.S. Bankruptcy Court
Woodland Hills, CA
James J. Waldron
U.S. Bankruptcy Court
Newark, NJ
Nancy Jean Whaley
Standing Chapter 13 Trustee
Atlanta, GA
Harris B. Winsberg
Troutman Sanders LLP
Atlanta, GA
Risa Lynn Wolf-Smith
Holland & Hart LLP
Denver, CO
The Induction Ceremony and Reception in honor of the new Fellows will take place at the Smithsonian Donald W. Reynolds Center for American Art and Portraiture. The 31 new Fellows are being honored and recognized for their professional excellence and their exceptional contributions to the bankruptcy and insolvency practice.
The American College of Bankruptcy is an honorary association of bankruptcy and insolvency professionals and plays an important role in sustaining professional excellence in the field. College Fellows include commercial and consumer bankruptcy attorneys, judges, insolvency accountants, turnaround and workout specialists, law professors, government officials and others in the bankruptcy and insolvency community. The College offers unique and challenging educational programs and publications, maintains the National Bankruptcy Archives at the University of Pennsylvania School of Law, and, in conjunction with the American College of Bankruptcy Foundation, is believed to be the single largest financial supporter of pro bono bankruptcy services in the United States. 
Nominees are extended an invitation to join based on a sustained record of achievement. Candidates are selected by the College's Board of Regents from among recommendations of Circuit Admissions Councils in each federal judicial circuit and specially appointed Committees for Judicial and Foreign Fellows.
Criteria for selection as a Fellow of the College include: the highest standard of professionalism, ethics, character, integrity, professional expertise and leadership contributing to the enhancement of bankruptcy and insolvency law and practice; sustained evidence of scholarship, teaching, lecturing or writing on bankruptcy or insolvency; and commitment to elevate knowledge and understanding of the profession and public respect for the practice.
For more information about the American College of Bankruptcy, or about the 2016 Induction Ceremony, contact Shari A. Bedker, Executive Director at 434-939-6004, fax at 434-939-6030, or email at sbedker(at)amercol(dot)org.