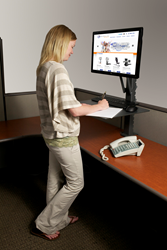 HealthPostures' sit to stand ergonomic products encourage an energetic work environment and will provide a sit to stand ergonomic solution that will help prevent and alleviate pain associated with sitting at work
(PRWEB) March 16, 2016
One of America's leading ergonomics companies, HealthPostures, is scheduled to attend the North America Safety in Action Conference. The conference will be held from April 7-9, 2016 at Nashville, Tennessee's Gaylord Opryland Resort and Convention Center. Injury prevention, behavioral safety practices and procedures and safety development strategies are highlights of the conference.
HealthPostures will join more than 80 exhibitors at the conference. Safety features of HealthPostures' ergonomics solutions are a solid, extended platform surface, adjustable height, adjustable keyboard tray and support while moving from a sitting to a standing position. As shared by HealthPostures' executives, "HealthPostures' sit to stand ergonomic products encourage an energetic work environment and will provide a sit to stand ergonomic solution that will help prevent and alleviate pain associated with sitting at work."
Specific ways that HealthPostures' designs are helping Tennessee employers and workers to create new legacies of mobility, safety and good health are by improving workplace posture, enhancing ergonomics techniques, supporting worker mobility and reducing absenteeism. The firm's uniquely designed equipment has been reported to reduce the numbers of hours that workers spend sitting, a habit that science has found to be damaging to health. Sit to stand solutions that HealthPostures designs and manufactures has also been reported to reduce headaches and musculoskeletal problems.
On display at the North America Safety in Action Conference will be products from HealthPostures' TaskMate Go line. Attendees could also get to try out HealthPostures' ergonomic sit/stand chairs. Timing of the conference could yield cost savings for safety managers, human resources professionals and healthcare experts who are interested in installing HealthPostures' ergonomics equipment at their facilities, as HealthPostures is currently offering free ground shipping on its products that are shipped within the continental United States.
More than 100 panelists are scheduled to appear at the North America Safety in Action Conference. Nearly, 2,000 union leaders, executives and safety managers are expected to attend. Workshops and breakout sessions will be held, offering exhibitors and other attendees opportunity to network and learn about new safety trends and practices. Pre-conference seminars will focus on topics such as decision making and effective meetings, applying problem solving tools and coaching for world class safety performance. Steve Gilliland, businessman and author, and Howard Behar, retired Starbucks President of North America, are the keynote speakers.
About HealthPostures
HealthPostures LLC (https://healthpostures.com) has been a leader in the workplace solutions space for more than 20 years. The company was founded in the 1990s. It specializes in the design and manufacturing of ergonomics and sit/stand workplace solutions. Benefits of using HealthPostures' products include reduced back and neck pain, lower numbers of headaches and alleviation of pain and discomfort caused by musculoskeletal disorders. A primary mission of HealthPostures' is to "strive to provide quality products that will help transform your sedentary life so you have a healthy way to work." Bestselling ergonomics equipment, including sit stand products, that HealthPostures designs include surface Taskmates, the TaskMate Go Laptop, dual monitor sit stand work stations and Stance move seat extensions.
Contact:
HealthPostures LLC
14310 Ewing Avenue South, Suite 100
Burnsville, MN 55306
800-277-1841
https://healthpostures.com
Sources:
http://safetyinaction.com/conference
http://www.hsa.ie/eng/Topics/Managing_Health_and_Safety/