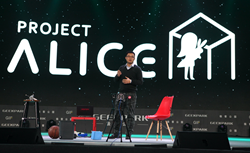 We are very excited to be back at GDC where we can once again connect with the entire tech community to showcase our latest developments.
San Francisco, California (PRWEB) March 14, 2016
Leading motion capture company, Noitom, will be at the 30th annual Game Developers Conference in San Francisco from March 16-18 where they will welcome tech enthusiasts and professionals from around the world to view the latest demos of their revolutionary Perception Neuron system and to take part in an exclusive experience of their new virtual reality B2B platform, Project Alice.
Beijing-based Noitom—whose name is the word 'motion' spelled backwards—has been at the cutting edge of motion capture technology since 2011. In 2014, the company launched one of the most successful Kickstarter campaigns from China with their versatile and adaptive, full-body motion capture system, Perception Neuron, which raised over a half million dollars from backers around the world.
This year's appearance at GDC marks another milestone for the company that continues to forge ahead in the VR and motion capture industries with new professional and consumer products. During the conference which takes place at the Moscone Center in downtown San Francisco, Noitom will be introducing for the first time outside of China their B2B VR solution, Project Alice. The multi-faceted platform catering to clients in the entertainment, manufacturing, marketing, and education industries among others, offers a high-quality complete simulation and virtual training solution that delivers immersive environments at reasonable costs.
"We are very excited to be back at GDC where we can once again connect with the entire tech community to showcase our latest developments," says Haoyang Liu, CEO of Noitom. "The GDC conference gives us a terrific opportunity to personally communicate with our customers and colleagues and to share ideas and feedback in a palpable way."
Visitors to GDC can stop by the Noitom booth, number #602, to see some of the latest demos for Perception Neuron. Anyone not yet familiar with the user-friendly, adaptable motion capture system will be able to view, on screens set up at the booth, how Perception Neuron can be used to give real-time movement to animation as well as seeing up-close the system's full hand motion capability.
Special guests of Noitom will have the chance to experience certain aspects of Project Alice in pre-scheduled demo sessions led by Dr. Tristan Dai, CTO of Noitom and developer of Project Alice. Project Alice demo participants will be given an HMD, headphones and a hand-held controller before being taken into a virtual universe where they will have the capability of moving through different scenarios within the platform.
Noitom and their products, Perception Neuron and Project Alice, will be at the Game Developers Conference at the Moscone Center in San Francisco from March 14-16, Booth #602. To schedule an in-booth demo, email contact@neuronmocap.com with the subject "GDC 2016 Demo." For more information about GDC 2016, please visit gdconf.com.
To learn more about Perception Neuron, please visit neuronmocap.com. To learn more about Noitom, visit noitom.com.
Founded in 2011, Noitom Ltd. works with a team of dedicated engineers who develop world-class motion capture technology for consumer and industrial markets through the integration of MEMS sensors, pattern recognition, human kinetics and wireless transmission. Noitom is an international leader in innovative technology for use in animation, film, medical applications, robotics and gaming. Noitom is headquartered in Beijing with affiliate offices in Shanghai and Shenzhen. The company also has two US offices located in Miami and Scottsdale. For further information about Noitom and its services, please visit, http://www.noitom.com. For general inquiries, please email, info(at)noitom.com.