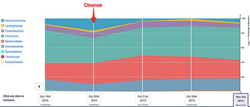 I've found it surprisingly easy for a non-specialist like me to make genuinely interesting discoveries at the cutting edge of medicine and science.
San Francisco, CA (PRWEB) March 15, 2016
uBiome, the leading microbial genomics company, welcomes Richard Sprague, formerly of Apple and Microsoft, to its team. He will become the industry's first Citizen-Scientist-in-Residence, and in this position he will have a broad mandate to explore the science of the microbiome.
Citizen science is scientific work undertaken by non-specialists, often in collaboration with professional scientists, and generally aimed at serving the best interests of the wider community. Richard came to the attention of uBiome through his microbiome self-experimentation. This has involved him investigating, for example, whether feeding specific microbes (using everyday foods like potato starch) might lead to better sleep. Read about his results here: http://www.ubiomeblog.com/hacking-sleep/ He has also explored the impact of a gut cleanse, via a powerful laxative, on his gut bacteria. (His gut flora returned to something very similar to its previous composition in about two weeks). View this experiment here: http://www.ubiomeblog.com/experimenting-with-a-gut-cleanse-by-richard-sprague/
"I have no formal training in biology," says Sprague, a long-time software executive, "but I'm excited about uBiome because customers have full access to their own data, and I've found it surprisingly easy for a non-specialist like me to make genuinely interesting discoveries at the cutting edge of medicine and science. I look forward to working with other interested members of the public who want to make an impact in an area of real scientific importance."
uBiome is the world's leading microbial genomics company. It uses next generation high-throughput DNA sequencing technology to generate detailed analysis of the human microbiome, the ecosystem of trillions of bacteria which populate the human body, both in and on it. Bacteria in the gut play a vital part in health, supporting digestion and the synthesis of vitamins. However pathogenic bacteria are associated with a range of conditions, some of them serious, such as celiac disease, inflammatory bowel disease - including both Crohn's disease and ulcerative colitis, irritable bowel syndrome, esophageal reflux and esophageal cancer, Clostridium difficile infection, colorectal cancer, and many others.
Although "citizen science" is a relatively new term, it has a long history. Before the 20th century, scientific work was often carried out by amateur or self-funded scientists such as Sir Isaac Newton, Benjamin Franklin, and Charles Darwin.
Formerly of Apple Computer, Richard Sprague has worked at numerous high-tech startups, including WebTV Networks, later acquired by Microsoft, where he led several initiatives in interactive TV, voice recognition and linguistics, and personal productivity for products including Windows, Office, and many others. He has spent ten years in Japan and China working at technology companies. Richard has an undergraduate degree in Computational Linguistics from Stanford University, and a combined MBA/MA from the University of Pennsylvania Wharton School.
Jessica Richman, co-founder and CEO of uBiome, says: "I'm thrilled about Richard joining our team. We already have a team of brilliant scientists working on our core products, and Richard will bring an exciting additional perspective which promises to add rich new possibilities to our future. He's also a gifted communicator with the knack of being able to explain complicated science to everyone from the layperson to the most advanced microbiologist."
Dr. Zachary Apte, CTO and co-founder of uBiome adds: "We were impressed by the personal experimentation work Richard did. Great ideas, with a thorough scientific approach, then articulately presented in a form people could immediately understand and apply in their own lives. It's a privilege to have him working with us."
uBiome was launched in 2012 by scientists and technologists educated at Stanford and UCSF after a crowdfunding campaign raised over $350,000 from citizen scientists, roughly triple its initial goal. The company is now funded by Andreessen Horowitz, Y Combinator, and other leading investors.
uBiome's mission is to use big data to understand the human microbiome by giving users the power to learn about their bodies, perform experiments, and see how current research studies apply to them.
Contact:
Julie Taylor
julie(at)ubiome.com
(415) 212-9214