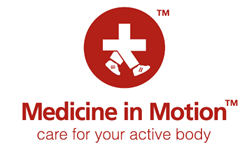 Everyone has a favorite method of dealing with the pressure of anxiety, but exercise is a sure-fire way for anyone to overcome stress.
Austin, Texas (PRWEB) March 23, 2016
In conjunction with the 25th annual Stress Awareness Month in April, Medicine in Motion has undertaken an educational initiative to increase public awareness of the causes and cures for the modern stress epidemic. Sponsored by The Health Resource Network (HRN), a non-profit health education organization, Stress Awareness Month is a national, cooperative effort to inform people about the dangers of stress, successful coping strategies, and harmful misconceptions about stress that are prevalent in our society.
"At home, work, school, and among family or friends, stress is all around. It's inescapable, but that doesn't mean it can't be manageable," said Dr. Martha Pyron, Austin sports medicine doctor and owner of Medicine in Motion. "While stress may take on different forms for different people, there are several ways to combat it. Everyone has a favorite method of dealing with the pressure of anxiety, but exercise is a sure-fire way for anyone to overcome stress."
The Austin sports medicine team at Medicine in Motion has put together some facts on using exercise to reduce and eliminate feelings of stress:
1. Exercise burns up the excess energy caused by stress. The body reacts to stress as it would any dangerous situation - by building up energy in anticipation of reacting to the danger. Once the energy is depleted through exercise, stress levels are reduced.
2. Exercise metabolizes the stress hormones (such as cortisol) in blood, while simultaneously increasing endorphins, which are the chemicals that can make a person feel calm or even euphoric.
3. Although exercise burns energy, it often has the effect of making a person feel energetic over the long term. A person who has the energy to face their problems often feels less stressed by them.
4. Stress is often higher when a person's self-confidence is lower. Exercise can help boost a person's self-esteem by way of physical improvements, leading to a reduction in stress.
5. Simply stepping away from responsibilities and their related stresses for a few minutes of exercise may help limit the effects of stress. The psychological effects can be extremely beneficial when removing one's self from a negative situation and temporarily replacing it with a positive one like a fitness activity.
6. People who exercise have been found to generally handle stress better on a daily basis. So not only does exercise appear to reduce stress, but it seems to also act a stress-buffer for those who make fitness a regular part of their lives.
Medicine in Motion (MIM) specializes in providing top quality sports medicine in Austin, Texas, for athletic individuals of all ages and levels. The staff at MIM believes active bodies are healthy bodies, therefore it is the office's goal to keep patients energetic and fit. To that end, MIM provides treatment of injuries and illnesses, including the use of physical rehabilitation; promotes healthy living with personal training and nutrition coaching; and offers comprehensive sports medicine evaluations to optimize health, activity level and sports performance. For more information or for questions regarding sports medicine in Austin, contact Medicine in Motion at 512-257-2500 or visit the website at http://www.medinmotion.com.