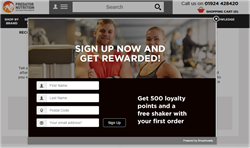 This unique partnership with ShopSocially has meant that 1000s of our loyal customers have benefited from the strategic loyalty program which has helped us to increase engagement levels & repeat sales. -Phil Slater, Head of Marketing at Predator Nutrition
Santa Clara, CA (PRWEB) March 16, 2016
With hundreds of the world's leading eCommerce brands trusting ShopSocially's platform, the 360 degree customer loyalty program is distinctive because customers can collect reward points through social media engagement via any merchant's site.
Established in 2009, Predator Nutrition, one of the leading sports nutrition companies in the United Kingdom has trusted ShopSocially to design its customer loyalty program. With the help of ShopSocially, Predator Nutrition implemented a modern day loyalty program where reward points are accumulated not just for purchases but also for recommending Predator Nutrition to a friend, reviewing products and following on social media networks such as Twitter, Facebook, Instagram etc.It offers several exciting rewards in lieu of loyalty point's redemption including money off vouchers, gym clothing, supplements, shakers, personalized training and diet programs.
In a short space of time, Predator Nutrition tracked the benefits of partnering with ShopSocially with specific wins defined as:

Customers actively engaging with the loyalty program and redeeming points added 33% onto their orders (AOV) and bought 1.7 times more often than other clientele who hadn't yet redeemed points.
25.23% sales conversion from referral traffic generated by the refer-a-friend app, demonstrating the power of a 360 degree loyalty program combining with robust referral traffic.
73% increase in daily redemption's coupled with a 9.5% jump in daily enrollments monitored in just one quarter achieved through effective promotion of the loyalty program on Predator Nutrition site.
Predator Nutrition is using Demandware as its eCommerce platform and chose ShopSocially from Demandware's ecosystem of certified link technology partners.
"This unique partnership with ShopSocially has meant that thousands of our loyal customers have benefited from the strategic loyalty program which has helped us to increase engagement levels and repeat sales."commented Phil Slater, Head of Marketing at Predator Nutrition. "The alignment is proving to be most valuable in terms of recognizing and caring for the needs of our devoted shoppers."
Primary features of the 360 degree customer loyalty app include; rewards not just for purchases but also for referrals and social sharing, customized loyalty actions in just a few clicks, integration with third party systems, zero programming requirements, and a loyalty dashboard seamlessly embedded onto existing websites.
Key features of refer-a-friend app include; convenient one click sharing, private refer-a-friend link, comprehensive incentive options, templates driven, customizable layout maintaining brand consistency, comprehensive analytics, A/B testing in various modes, rule based targeting engine and a multitude of personalization options.
"Thanks to ShopSocially's straightforward and seamless integration; these results were accomplished without Predator Nutrition writing a single line of computer code."commented Samir Palnitkar President of ShopSocially, "We are very proud of Predator Nutrition achieving 33% AOV for customers who redeemed, and also the spurt in enrollments and redemption's in the loyalty program."
About Predator Nutrition
PredatorNutrition.com was born in 2009 from the need to introduce fitness enthusiasts to products that work. It is easy answering what they do, but what separates them from their competition is how and why they do it. They are results driven team that strives to provide outstanding customer service, excellent product advice and a great range of innovative supplements which they hold exclusive distribution rights to.
It is this pursuit to be the best in what they do that gives Predator Nutrition a competitive edge and turned it into a leading sports nutrition business in the UK. They sell the best brands from around the world and they are proud to be exclusive distributors to many leading brands such as Driven Sports, PES, Body Nutrition, Molecular Nutrition, MTS Nutrition and many more.
About ShopSocially:
ShopSocially is Software as a Service (SaaS) based social, referral and loyalty marketing platform delivering up to 40% more revenue by enabling increases in new customer acquisitions, engagement, conversion rates and retention. More than 500 global brands currently use ShopSocially to grow their companies via proven strategies such as referral marketing, visual commerce, customer loyalty, social login, social gamification and customer questions and answers. This has led to ShopSocially becoming one of the world's most comprehensive platforms for social, referral and loyalty results.
The ShopSocially platform offers a comprehensive suite of marketing solutions eliminating the need to implement multiple, inconsistent solutions and delivers a measurable ROI. Our fully managed service option ensures no additional work for marketing or IT teams.
ShopSocially has been honored with several awards and recognition's for its innovative technology. To learn more about how ShopSocially can help grow your business, please contact us at (650) 701-7759 or visit our website: http://shopsocially.com/