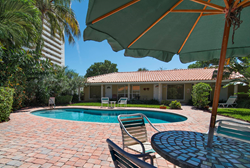 Fort Lauderdale, FL (PRWEB) March 15, 2016
Focus group research completed late last year by Dr. Christian DeLucia, Associate Professor, College of Psychology, and his team at Nova Southeastern University, showed that all of the 20 young heroin and opioid addicts participating in the study praised the use of music as the key modality in their therapy. Each of the residential and outpatient study participants were within a week of completing a rehabilitation program at the Recovery Unplugged® Treatment Center (http://www.recoveryunplugged.com) in Fort Lauderdale, Florida.
Dr. DeLucia and his team are now in the process of following up this qualitative research with a quantitative study to compare Recovery Unplugged client outcomes with outcomes of clients receiving other treatments that do not offer an immersion in music.
"A 1997 SAMHSA (Substance Abuse and Mental Health Services Administration) statistic tells us that, on average, 25% of individuals who enter residential substance use treatment fail to complete it," said Dr. DeLucia. "This issue is known as leaving treatment 'Against Medical Advice' or AMA."
Recovery Unplugged's AMA rate is 7%. A possible implication of this lower AMA rate at Recovery Unplugged is that the music helps with initial client engagement, which ultimately leads to higher rates of treatment completion. Decades of research suggests that exposure to more treatment is associated with better long-term outcomes (Simpson, 2004). The next phase of Dr. DeLucia's research will examine whether Recovery Unplugged's music-based treatment is associated with lower relapse rates compared to relevant existing data sources (e.g., published outcomes from other substance use treatment programs).
Paul Pellinger, Recovery Unplugged's Chief Strategy Officer goes further. "After 20 years of experience providing rehabilitation services, and the collective results of work by our therapists, I believe that our industry leading success is due to more than our high completion rate," he said. "It makes sense that people who enjoy our process and are comfortable in the community environment we've built are more likely to stay in treatment – and that more treatment produces better results. But, our internal research tells us that it's the way we use music to connect with clients on a deeper emotional level that breaks down defenses and helps our patients and therapists get to fundamental issues. It's that our patients can then take the music they've connected with back into their worlds and use it as a "recovery trigger" that makes the difference. Personal involvement with music during therapy becomes a catalyst for making the changes necessary for long-term recovery and sobriety, and we're ultimately expecting that the next phase of the Nova Southeastern research will confirm that conclusion."
About Recovery Unplugged®
Recovery Unplugged® Treatment Center is a Florida-based facility that offers a rehabilitation approach that is unique and long lasting. The center combines elements of evidence-based substance use treatment (e.g., cognitive behavioral, 12-step facilitation) with music based treatment as a catalyst to break down defenses, inspire, and motivate the change necessary for long-term recovery and sobriety. Through its music-based treatment, Recovery Unplugged is committed to instilling hope and relief from addiction to individuals all over the United States. To learn more, visit http://www.recoveryunplugged.com