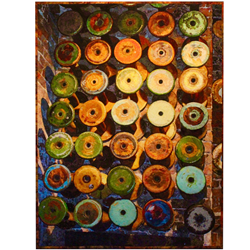 Lancaster, PA (PRWEB) March 16, 2016
American Quilter's Society, the largest quilting membership organization in the world, is pleased to announce the winners of the AQS Quilt Contest. Over $50,000 in prizes will be awarded to the winners at AQS QuiltWeek® – Lancaster, PA. The Lancaster AQS QuiltWeek® event will run from March 16 to March 19 at Lancaster County Convention Center, 25 South Queen Street, Lancaster, PA 17603.
As part of the American Quilter's Society's celebration of quilting excellence, the contest recognizes the skill and creativity of today's quiltmakers, as artists compete in the AQS Quilt Contest for more than $50,000 in cash awards. Entries come from around the world to compete in the contest. This year's winners come from nineteen different states and four countries.
These winning quilts will astound the 15,000 quilters expected to visit AQS QuiltWeek in Lancaster this week:
Best of Show Award
#725 END OF THE SPIN, Melissa Sobotka, Richardson, TX
Best Wall Quilt Award
#412 QUILT NOIR, Shirley Gisi, Colorado Springs, CO
Best Use of Color Award
#313 MACKINTOSH ROSE, Tim Latimer, Lansing, MI
Best Original Design Award
#501 ARANDANO, Marilyn Badger, St. George, UT
Best Hand Workmanship Award
#312 BEN'S MIDNIGHT GARDEN, Barbara Korengold, Chevy Chase, MD
Best Home Machine Workmanship Award
#113 WHY NOT?, Angela Petrocelli, Prescott Valley, AZ
Best Longarm Machine Workmanship Award
#214 BOUQUET ROYALE, Margaret Solomon Gunn, Gorham, ME
Large Quilts – Home Machine Quilted
First #120 BLUE PLATE SPECIAL, Susan Stewart, Pittsburg, KS
Second #112 BIRDS FLY..., Barbara E. Lies, Wheaton, IL
Third #119 WEIGHED IN THE BALANCE, Marilyn Smith, Columbia, MO
Hon. Mention #111 MANOR HOUSE CATS, Cheryl Kerestes, Wyoming, PA
Large Quilts – Longarm Machine Quilted
First #230 828 VALENCE ST., Laurie Tigner, Rapid City, SD
Second #229 MY BRUNETTE WHIG, Gail Stepanek and Jan Hutchison, New Lenox, IL
Third #202 FREE FALLIN', Kathie Beltz and Mara Novak, Greenfield, NH
Hon. Mention #207 SHOWER OF ROSES, Donna Derstadt, Libertyville, IL
Hand Quilted Quilts
First #321 SHELLABRATION, Christine Wickert, Penfield, NY
Second #305 WINTER GARDEN, Jennifer Emry, Arlington, VA
Third #318 MELINOPHAN, Andrea Stracke, Groß Niendorf, Germany
Hon. Mention #303 SPRING DANCE, Barbara Clem, Rockford, IL
Wall Quilts – Home Machine Quilted
First #404 A PASSION FOR PURPLE, Andrea Brokenshire, Round Rock, TX
Second #420 LANGUAGE OF FLOWERS, Kathy McNeil, Tulalip, WA
Third #431 CAPTAIN KIMO, Nancy Sterett Martin, Owensboro, KY
Hon. Mention #425 THE SONGBIRDS' GARDEN DUET, Joyce Paterson, Ukiah, CA
Wall Quilts – Longarm Machine Quilted
First #509 THE PAISLEY PEACOCK, Bethanne Nemesh, Allentown, PA
Second #506 AUTUMN'S SURRENDER, Margaret Solomon Gunn, Gorham, ME
Third #507 REBORN, Molly Hamilton-McNally, Tehachapi, CA
Hon. Mention #511 BLUE DANUBE, Laurie Tigner, Rapid City, SD
Wall Quilts – Crazy Quilts
First #605 MY ANNIVERSARY, Mariko Miwa, Musashino-city, Tokyo, Japan
Second #601 VICTORIAN TRANSFORMATION, Allie Aller, Washougal, WA
Third #604 ACROSS THE DARKENED SKY, Kim Loar, Lancaster, PA
Hon. Mention #606 TRUST THE MAGIC, Betty Pillsbury, Middleburgh, NY
Wall Quilts – 1st Entry in an AQS Lancaster
First #721 A LONG WAY FROM HOME, Amy Pabst, LeRoy, WV
Second #716 IMPERIAL MAJESTY, Donna James, Nelson, British Columbia, Canada
Third #708 SPANISH ARCHES, Lenore Crawford, Midland, MI
Hon. Mention #704 WHO WAS ALICE?, Julie Burkey, Landenberg, PA
All of the winning quilts, as well as those of the semifinalists, will be on display at the Lancaster County Convention Center from Wednesday through Saturday. In addition, AQS QuiltWeek will be hosting a number of other special exhibits, workshops with some of the top talent in the quilt industry, and an extensive merchant mall comprised of both local and national vendors.
Admission to AQS QuiltWeek is $14 per day and tickets can be purchased at the door. Multi-day tickets are available. Hours are Wednesday through Friday, from 9:00 a.m. to 6:00 p.m., and Saturday from 9:00 a.m. to 4:00 p.m. Ticket and additional information can be found at quiltweek.com or by calling 1-270-898-7903.
About the American Quilter's Society
The American Quilter's Society is the largest quilting membership organization in the world. For more than 30 years, AQS has been the leading voice in quilting inspiration and advice, through a broad suite of products—magazines, books, live events, contests, workshops, online networks, patterns, fabric, and catalogs. At AQS, we believe that with inspiration and advice, the creatively-minded individual can take their quilting projects beyond what even they had imagined. The leading authors in quilting choose to publish with AQS; the best in quilt artistry select AQS events to display their work; the newest quilters learn from the knowledge and inspiration of AQS members. For more information on the American Quilter's Society, please visit http://www.americanquilter.com or call 270-898-7903.