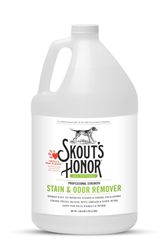 "Our retailers and customers have been asking for super-sized versions for a long time now...it was a no-brainer to come out with them at Global Pet Expo," said Macon Brock, president and co-founder, Skout's Honor
ORLANDO, Florida (PRWEB) March 16, 2016
Skout's Honor, the fast-growing company that offers BETTER, FASTER and STRONGER solutions to everyday pet messes and odors, today announced that it will offer two of its best-selling products (the Stain & Odor Remover and the Urine Destroyer) by the gallon. The new gallon-sized products will be on display at the American Pet Products Association (APPA) Global Pet Expo in Orlando, Florida, March 16-18, 2016), in the Skout's Honor Booth #2487.
"Our retailers and customers have been asking us for a super-sized version of these products since we introduced them last year – so it was a no-brainer for us to come out with them in time for Global Pet Expo," said Macon Brock, president and co-founder. "It's nice to know that our customers have been so pleased with the products' results, that they want us to give them more of it!"
Stain & Odor Remover (MSRP: $44.99, 1 gallon)

Extra-strength, non-enzymatic cleaner to quickly eliminate stains and odors
Optimized for use on porous and non-porous surfaces
Great for everyday cleanup
Urine Destroyer (MSRP: $44.99, 1 gallon)

Powerful solution optimized to quickly penetrate deep into carpet padding, unsealed concrete and other porous surfaces to eliminate stubborn stains and odors
Skout's Honor products leverage BioKore™ technology and/or a rapidly biodegradable molecular deodorizer to provide pet owners with BETTER, FASTER, STRONGER environmentally and socially conscious cleaning solutions.
The Skout's Honor family of products is available at retailers across the United States and Canada, and also on Amazon.com. For specific retail locations, please visit the store locator.
Visit Skout's Honor in Booth #2487 at Global Pet Expo to find out what all the buzz is about! For distribution and sales opportunities, please contact Shannan Morlas, National Sales Manager, at shannan(at)skoutshonor(dot)com.
Skout's Honor
Skout's Honor is a company based in Irvine, Calif. that offers high-quality household pet cleaning products including a Stain & Odor Remover, Odor Eliminator, Urine Destroyer, Litter Box Deodorizer, Cat Urine & Odor Destroyer and Patio Cleaner & Deodorizer. Founded by a team of animal lovers and proud pet owners, the company created its "Skout's Paw Pledge," and donates a day's worth of food for a shelter animal in need with every product sold. In addition to being available at a variety of pet specialty retailers nationwide, the entire line of next generation green cleaning products is available for purchase on Amazon.com or the Skout's Honor website. For more information on the products and for specific retailers, please visit SkoutsHonor.com
###