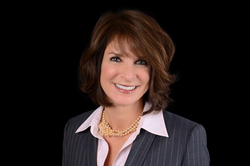 "I look forward to my continued commitment to our strategic leadership, our investors and associates, and all of the various persons and entities involved with Gables. It has been a remarkably rewarding career journey."
Atlanta, GA (PRWEB) March 17, 2016
Gables Residential, a leader in the management and development of multifamily apartment communities, promotes Cristina (Cris) Sullivan to Chief Operating Officer. Prior to her promotion, Cris held the position of Executive Vice President, Operations since 2012.
Cris began her career with Gables Residential's predecessor, Trammell Crow Residential, as a leasing consultant in 1988. Over the past 28 years, she has held numerous positions with the company while being promoted to ever increasing positions of responsibility. "Cris embodies the essence of our culture. She cares deeply and passionately about our associates, residents, local communities and investors, while consistently leading the team to deliver outstanding operating results," stated Sue Ansel, Chief Executive Officer.
During her tenure at Gables, Cris has led many important company initiatives and she has implemented multiple programs which have generated operational efficiencies. Her drive and enthusiasm demonstrates the value of Gables best and award-winning internal and external service satisfaction scores. In addition, her influence on the company's sustainability efforts and charitable contribution endeavors has been very impactful. "Cris is a recognized thought leader within our industry and as such, she is frequently asked to represent Gables to present forward thinking ideas in an effort to continue to drive change in the multifamily sector," said Dawn Severt, Chief Financial Officer.
As a result of her recognition as a multifamily expert, Cris was recently the recipient of the Real Estate Forum's 2015 Women of Influence Award. "I am proud to have such a long tenure with a company as highly regarded as Gables Residential. Gables is an extraordinary organization and my career path reflects the strength and dedication of the Gables team," shared Cris. "I look forward to my continued commitment to our strategic leadership, our investors and associates, and all of the various persons and entities involved with Gables. It has been a remarkably rewarding career journey."
About Gables Residential
Gables Residential is an award-winning, vertically integrated, real estate company and privately held REIT specializing in the development, construction, ownership, acquisition, financing and management of multifamily and mixed-use communities. Gables Residential owns, develops and manages communities in high-growth U.S. markets such as Atlanta, Austin, Boston, Dallas, Denver, Houston, South Florida, Southern California and metropolitan Washington, D.C. Gables also provides third party management services in the New York, Baltimore, Frederick, Tampa, Phoenix, Seattle, Charlotte, Central and North Florida markets.
Gables manages approximately 30,000 apartment homes and 600,000 square feet of retail space and has received national recognition for excellence in development, construction, management, sales, marketing, learning and development, benefits and corporate accommodations. These achievements reflect the impact of our experienced and dedicated team members, our superior knowledge of the markets served, and our expertise in development and management.