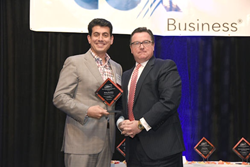 What an honor to be recognized by the Business Journal and belong to this group of current award winners, and those from years past who have been recognized for innovation, job creation, and improving peoples' lives.
Irvine, CA (PRWEB) March 16, 2016
Proove Biosciences is pleased to announce that its founder and CEO, Brian Meshkin, is a winner of the Orange County Business Journal's 15th Annual Excellence in Entrepreneurship Award. More than 300 people gathered at the Hotel Irvine Jamboree Center on Thursday, March 10 to honor Orange County's top business leaders for their entrepreneurial spirit and success. The Excellence in Entrepreneurship Awards Program is a luncheon designed to celebrate individuals who, by their creativity and determination, have established and nurtured successful business ventures.
"Orange County is an incredible business community with many successful entrepreneurs," states Brian Meshkin. "What an honor to be recognized by the Business Journal and belong to this group of current award winners, and those from years past who have been recognized for innovation, job creation, and improving peoples' lives."
Founded in 2009 by Brian Meshkin, Proove Biosciences has grown exponentially to become a commercial and research leader in personalized medicine. Using its patent protected bioinformatics platform, Proove delivers "proof to improve" health care decisions in the field of pain treatment — the largest and most expensive health care condition in the United States. The company has grown from about 150 tests in 2011 and three employees to more than 200,000 tests in 2015 with more than 250 employees. Physicians in Orange County and across the United States order Proove testing to choose the best medications for an individual patient, avoid addiction to prescription opioids, and help patients reduce their pain. Proove has been profitable and won awards for its research from leading medical societies including the American Society of Regional Anesthesia, American Society of Interventional Pain Physicians and others. Through its Proove Promise, the company works to achieve its mission and provides 40 hours of paid volunteer time to its employees who have volunteered for the Special Olympics, United Way, Second Harvest and other charities.
In addition to Meshkin, other winners this year included Burno Serato of Anaheim White House, Don DiCostanzo of Pedego Electric Bikes, Twila True of True Investments, and Alexis and Steve Schultze of Nektar Juice Bar.
Meshkin explains, "It was so humbling to hear the stories of these other entrepreneurs. With Bruno working to feed a quarter of a million "motel kids" dinner, to Don creating the leading electric bike company in the country, hearing Twila's inspiring story of overcoming the circumstances of her birth in poverty to become a leading real estate investment firm, and Alexis and Steve achieving their mission of improving the health of our community in one of my favorite places to get a juice, it is truly an incredible group of individuals."
Brian Meshkin is a social entrepreneur who strives to solve societal problems through businesses and technology innovations. At Proove, the company is committed to address three epidemics:
1. The epidemic of unresolved pain in America that is the most prevalent and expensive health condition in the United States. By providing proof to improve decisions involved in the diagnosis and treatment of pain, Proove is having an enormous impact on the overall healthcare system.
2. The epidemic of prescription opioid abuse (RxO) is a condition affecting every community in America. With three times as many people dying from prescription narcotics than all of the illegal narcotics combined, RxO abuse is now the leading cause of injury death – more than automobile accidents, and the leading cause of death among teenagers. By being able to stratify patient risk, high risk patients who are 10 times more likely to abuse RxO's can be spared and low and moderate risk patients can get the opioid pain medications they need to control their pain.
3. The epidemic of disability due to muscular-skeletal injuries is the leading cause of disability in America. By being able to assist those with injuries and the orthopedic physicians treating them, Proove can provide proof to improve these decisions and improve outcomes.
"Like many of the other winners, Proove is on a mission. I am honored to be recognized not only for creating a great business, but more importantly, like these other great entrepreneurs, for making a positive impact in the lives of others," states Meshkin.
About The Orange County Business Journal
The Orange County Business Journal is the weekly read that connects the Orange County business community. This is where the community doers in the most vibrant slice of the Southern California economy keep tabs on each other. With one of the highest circulations of all the Business Journals in the country, it continues to grow as a highly impactful and influential publication. More information on the Orange County Business Journal can be found at http://www.ocbj.com, or by calling 949-833-8373.