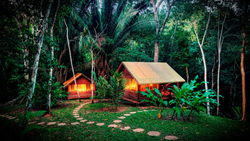 a place that's conducive to bonding, brainstorming and getting the most out of an event
San Ignacio, Belize (PRWEB) March 18, 2016
The Lodge at Chaa Creek has long been known as Belize's premier vacation haven for families, couples, groups and individuals. However, in naming the eco-resort as one of the world's top five corporate retreats, a recent travel feature highlighted a lesser-known facet of the popular eco-resort, according to Chaa Creek.
A March 10 2016 Oyster.com Travel Fantastic feature, "5 Mind-Blowing Corporate retreats" listed Chaa Creek's Macal River Camp as one of the world's top five "resorts that offer truly awesome settings for company getaways". Chaa Creek was also the only resort not located in the United Sates; something that Ms Fleming said reflects on the high level of quality and service as well as Belize's close proximity to North America.
"We were delighted to be included among such distinguished corporate retreats, and took particular satisfaction in seeing that Chaa Creek was the only one not located within the United States. That's something we attribute to the quality of our offerings as well as the fact that we're so close to the US.
"With the enhanced international and domestic air service Belize has enjoyed in recent years, including Tropic Air's service to virtually our front door at Maya Flats, our guests can have breakfast in the US and begin their retreat after enjoying lunch in a pristine rainforest setting dotted with ancient Maya temples. That ease of travel is something that continues to make us attractive to vacationers and corporate guests as well," Ms Fleming said.
Belize's combination of the familiar and the exotic, having English as the official language and currency pegged to the US dollar while retaining a unique Caribbean culture, makes for exciting corporate functions that are easy and affordable to organise, Ms Fleming explained.
In describing Chaa Creek's Macal River Camp, the Travel Fantastic feature advised;
"If your organization thinks the right way to facilitate bonding is to get involved with nature, then try suggesting something somewhat different than the common camping trip. The budget-friendly Macal River Camp at Chaa Creek takes camping to a complete new level – specifically, the 'glamping' (translation: glamorous camping) level."
Ms Fleming said that participants in seminars, team building exercises and conferences at the Macal River Camp comment how much they enjoy the blend of the rustic and luxurious, and how conducive the intimate setting is to productivity.
"While the accommodations at the Macal River Camp are simple; consisting of timber casitas, which is Spanish for "little cabins", guests have access to all the amenities of the Lodge itself, including a full service conference centre, infinity pool, fine-dining restaurant, lounge, the Hilltop Spa, equestrian centre and other facilities. This gives corporate retreats a high level of privacy, intimacy and the feeling of being out in nature without sacrificing creature comforts," she said.
The casitas are built above ground on poles with timber floors and walls, soft roofs and individual verandas offering views of the surrounding jungle and the Macal River. A kitchen serves meals under a thatched-roof palapa, or common room, or guests can opt to dine at Chaa Creek's Mariposa restaurant, which offers farm-to-table dining courtesy of the onsite traditional Maya organic farm as well as fresh seafood from Belize's Caribbean coast.
A large fire ring accommodates groups for everything from brainstorming to sing-alongs, canoes are available and a network of trails radiates from the camp to other parts of Chaa Creek's 400-acre private nature reserve.
"The concept behind the Macal River Camp was to have a place removed from, but still close enough to the main Lodge area for people wishing an authentic jungle experience without the inconvenience. The sounds of tropical birds fill the air, and at night howler monkeys and cicadas provide an exotic chorus while, depending on the month, fireflies light up the trees.
"At the same time, not very far away are an infinity pool, Wi-Fi connectivity, an excellent restaurant and lounge with a carefully stocked wine cellar and other creature comforts. We like to think of it as being the best of both worlds, and a place that's conducive to bonding, brainstorming and getting the most out of an event," she said.
Ms Fleming said the Macal River Camp has hosted organisations and groups ranging from State University of New York's Cortland campus, the Natural Resources Defenders Council, Smithsonian Institute departments, and a range of corporations, public sector and NGOs as well as the resort's annual "Eco-Kids" environmental summer camp Chaa Creek sponsors for Belizean school children.
The adjacent Chaa Creek conference centre can accommodate up to 100 people in air-conditioned comfort and can be configured for more intimate gatherings. It features AV equipment, comfortable chairs with lumbar support, a PA system with cordless microphones, televisions, and VCR and multimedia capabilities. Fully serviced with catering available, it is designed to accommodate a wide range of meetings and presentations.
She added that Chaa Creek has a dedicated corporate services team to help with planning and coordinating events, including scheduling activities and tours to accentuate goals and outcomes. "We have a great deal of experience in this area and are happy to work with managers to help them get the most out of a Belizean corporate retreat," she explained.
Ms Fleming said being surrounded by 400 acres of pristine rainforest and enjoying team building activities such as horseback riding, canoeing, nature walks, ancient Maya temple exploration and other activities while having access to quality amenities and equipment gives corporate retreats and events a distinctive edge while fostering productivity and effective outcomes. Belize's close proximity to North America and the ease of travel to and within the country is attracting corporate managers looking for something different yet effective.
"At first glance, Chaa Creek being included among corporate retreats located in Orange County, California, Miami Florida, Sedona Arizona and Finger Lakes, NY, may seem like an anomaly. But when you consider Belize's easy proximity to the US, the English speaking populace and a currency pegged to the US dollar, it's easy to think of it as being another state.
"Except a state with stunning scenery, near perfect year round weather, and a host of exciting activities amid the sounds of toucans, parrots, monkeys and other exotic wildlife. We like to think of it as a setting that makes for positive outcomes while giving participants an experience they'll talk about for years," Ms Fleming said.
The Lodge at Chaa Creek is a multi award winning eco resort set within a 400-acre private nature reserve along the banks of the Macal River in Belize.
ENDS