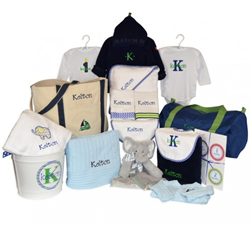 Baby Be Hip is my go-to gift when friends or family have a baby. The gifts are always well received. Thanks for consistently making a fabulous product. I love the feedback I receive from new mom's when they call gushing because they've loved it so much.
Philadelphia, PA (PRWEB) March 22, 2016
Everyone knows that babies grow so fast that it's hard to keep up. To the new parents, every month is a milestone and a new reason for photographs and celebration.
Imagine the excitement of getting a brand new baby gift every month, with each gift proudly displaying the baby's name and appropriate for the growing bundle of joy. Grandparents that live across the country make their presence known when they send these gifts. For those looking to stay top of mind for that important client or colleague, this is a good way to celebrate the huge milestone of a new baby in their life. This unique gift subscription makes it easy to treat that special little baby with monthly presents designed to grow right along with him or her. Baby Be Hip offers everything from personalized burp cloths that allow the baby to "spit up in style" to cool personalized metal storage buckets of their very own that will be used for years from the nursery to the playroom. These gifts are sure to become household favorites.
Subscribers get top-quality, unique personalized baby gifts that are sure to delight every month for three, six, nine or a full 12 months. Plus, every item comes with free gift wrap for an elegant presentation for each and every surprise. And for an added bonus, Baby Be Hip will email the gift-giver a picture of each personalized baby gift before it gets shipped out. This is not the typical baby gift subscription box.
About Baby Be Hip:
Baby Be Hip has been in business for fourteen years and was started by Colleen Mook, a mother of four children. She knows the importance of sending baby gifts that are not only beautiful but functional as well. Baby Be Hip sells its products through their e-commerce website and other third party online channels. Baby Be Hip products have been featured on the TODAY Show, Good Morning America as well as many national parenting magazines. Colleen is also a frequent speaker and blogger on many topics: small business, being a mom-preneur, parenting a special needs child, etc. She can be reached for interviews at colleen@babybehip.com or by cell.