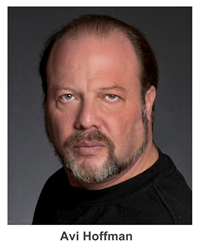 Our mission is the continuation of the Yiddish language and culture almost annihilated by the Nazis, but alive in the words and spiritual values of Yiddishkeit: Social Justice, Freedom, Creativity, Education and Acceptance
New York, New York (PRWEB) March 22, 2016
On Sunday, March 27, 2016 Avi Hoffman returns to New York with a one-man show in Yiddish, "A Rendezvous with God," or, as it is titled in English, "Reflections of a Lost Poet: The Life and Works of Itzik Manger." This program follows Hoffman's critically acclaimed performance as Willy Loman, in the all-Yiddish production of Arthur Miller's "Death of a Salesman," this past Fall at the Castillo Theater on 42nd St. Now, the Scholem Aleichem Cultural Center brings Hoffman home to the Bronx to reprise his role as Itzik Manger, a literary giant in the lost world of Eastern European Jewish culture during the Holocaust. He will again perform completely in Yiddish with English supertitles for non-Yiddish speakers.
This special event is hosted and presented by the Sholem Aleichem Cultural Center joined by The Bronx Jewish Historical Initiative and the Mendl Hoffman Foundation, which received generous sponsorship from the Michael and Florence Edelstein Foundation.
A brief panel discussion will follow including: Miriam Hoffman, the show's author; Rita Rappoport Greenstein, author of "It Seems Like Just Yesterday," a Bronx memoir; and Rukhl Schaechter, the newly appointed editor of the Yiddish Forward. Rabbi Mark Golub of the Jewish Broadcast Service will moderate.
In this serio/comic monologue by Miriam Hoffman, a prolific writer and retired professor of Yiddish at Columbia University, the story of Manger's life is woven together with his own words, echoing the richness of Yiddish literary life, with all the joy and anguish of a people and a language nearly annihilated by the Holocaust. With musical direction and arrangements by Ben 'Binyumin' Schaechter, Avi Hoffman, who is the author's son, brings Itzik Manger—and Yiddish—vividly to life in words and song.
Tickets are available at the door - $10 Center Members: Free
When: Sunday, March 27, 2016 - 1:30 pm – 3:30 pm including a brief panel discussion
Where: Sholem Aleichem Cultural Center, 3301 Bainbridge Avenue @ 208th Street, Bronx, NY 10467
Directions: http://www.yelp.com/map/sholem-aleichem-folk-school-21-bronx
Parking: Montefiore Hospital: 24-hour valet parking garage at 120 East 210th Street;
###
About Itzik Manger -Manger was born in Czernowitz, Austria-Hungary (later Romania and now Ukraine) in 1901 and died in Israel in 1969. Considered one of the most prolific and greatest Yiddish poet, lyricist, and playwright; a self-proclaimed folk bard, visionary, and 'master tailor' of the written word. A Jew from Bucovina, Manger lived in Romania, Poland, France, England and finally Israel, "where he did what few other Yiddish writers succeeded in doing: finding acceptance writing in that language." "Israel did its best to ignore the Diaspora language, but Manger actually saw his plays mounted in Tel Aviv; when "Songs of the Megillah" was given a theatrical setting, it ran for 400 performances." Manger's work is included in the UNESCO Anthology of World Poetry, The Treasure of Yiddish Stories and The Treasure of Yiddish Poetry.
About Avi Hoffman, actor, musician, director, producer is best known for his award winning one man shows Too Jewish?; Too Jewish, Too! and Still Jewish After All These Years (Performer of the Year '95 - NY Press Magazine; L.A. OVATION award - Best Actor In a Musical 2001; NY Drama Desk and Outer Critics Circle award nominations). Both shows have been broadcast nationally on PBS. On TV, he was featured as Sid Raskin in the Starz TV series Magic City, on Netflix' Bloodline, A&E's The Glades and on the NBC 's Law and Order. He starred in the motion picture The Imported Bridegroom and was in the PBS documentary They Came For Good: A History of the Jews in the US. Avi has performed all over the world with numerous acting and directing credits, awards and nominations. For more information: http://www.mendlhoffmanfoundation.org
and/or Booking information contact: avi(at)mendlhoffmanfoundation(dot)org or 954-415-2730.
About Miriam Hoffman – Miriam Schmulewitz Hoffman was born in Siberia, survived the war and grew up in the Displaced Persons Camp in Germany, arriving in the US in 1949. She's dedicated her life to teaching the beauty of Yiddish and Jewish Culture. Over a 50-year career, she taught at educational institutions worldwide, and recently retired as professor of Yiddish at Columbia University after 25 years. As a writer for the Jewish Forward, she published over 2000 articles. Ms. Hoffman has written ten Yiddish plays, which were performed at the N. Y. Shakespeare Festival , the Joseph Papp Yiddish Theater, off-Broadway at the Astor Theater, the John Houseman Theater, the 92nd St. Y, and productions worldwide. In 1992 she won the Israeli equivalent of a Tony Award for her English-to-Yiddish translation of Neil Simon's The Sunshine Boys.
About Binyumen Schaechter - Binyumen "Ben" Schaechter is an award-winning composer, arranger, conductor, musical director and performer, in both musical theatre and in the world of Yiddish music. His music has been heard on the New York stage, major TV networks, and in many recordings. Binyumen is the conceiver, musical director/arranger, and translator of a half-dozen Yiddish musical theater works. He is the conductor of the [Jewish People's Philharmonic Chorus, a 50-voice, largely a cappella intergenerational Yiddish chorus. For information : http://www.thejppc.org
About the Sholem Aleichem Cultural Center – 3301 Bainbridge Ave, Bronx, NY – Housed in the site of the Sholem Aleichem Shul 21, the Center has been in this north Bronx neighborhood since the 1930's when it was known as a Yiddish- speaking shtetl. The Center's mission is to preserve and foster the Yiddish language. It started as a secular shul, a place for children to master Yiddish, when there was still a large Yiddish-speaking population in the Bronx. While they no longer offer classes, they hold a weekly conversation group, as well as popular, well-attended monthly lectures and events conducted completely in Yiddish. For information: http://www.facebook.com/events/984726418259861
The Bronx Jewish Historical Initiative (BxJHI) http://www.thebronxjewish.org -This new initiative, founded by Howard Teich, Esq. in partnership with the Bronx Borough President, is designed to be an interactive community-based project to explore, record, and share the extraordinary history of the Jewish community of the Bronx, while also looking forward, enhancing the Jewish spirit that continues to contribute to the borough's special identity. http://www.thebronxjewish.org Contact: TheBronxJewish(at)gmail(dot)com