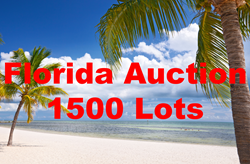 Deerfield Beach, Florida (PRWEB) March 18, 2016
BEST MARKETPLACE FOR USED MEDICAL EQUIPMENT!
LIVE SIMULCAST AND ONSITE BIDDING
Auction Date: Tuesday, March 22 at 10 AM EST 
Inspection Dates: Monday, March 21 from 8 AM - 4 PM EST
Equipment Removal: Wednesday, March 23 - Friday, April 1st from  8 AM - 4 PM 
Auction Location: 756 South Military Trail, Deerfield Beach, Florida 33442
Register HERE!
These are just some of the highlights:
BEDS
HILL ROM TOTALCARE HOSPITAL BED (6)    
STRYKER 2040 HOSPITAL BED (12)
ZENITH 9000 LOW BED (NEW IN BOX, 3)
EXAM 
RITTER 175 POWER EXAM CHAIR
BREWER ACCESS EXAM TABLE (NEW IN BOX, 3)
WELCH ALLYN EXAM GOOSENECK EXAM LIGHT (6)
RITTER EXAM GOOSENECK EXAM LIGHT (NEW IN BOX)
OB 
AIRSHIELDS C100 INFANT INCUBATOR
HILL ROM 11CS-90 INFANT WARMER (2)
INFUSION 
BAXTER AS 50 INFUSION PUMP (10)
BASTER AS 40 INFUSION PUMP
PATIENT WARMING 
CSZ BLANKETROL II HYPER-HYPOTHERMIA UNIT (10+)
RESPIRATORY 
RESPIRONICS BIPAP VISION VENTILATOR (10)
DIALYSIS
MEDTRONIC SEQUESTRA 1000 UNIT
COBE BRAT 2 PERFUSION UNIT (5)
SARNS ICDS UNIT (2)
LAB
SIEMENS STRATUS CS ACUTE CARE DIAGNOSTIC SYSTEM (2)
DEPUY SYMPHONY PLATELET CONCENTRATION SYSTEM
LEICA CM 1850 TISSUE TEK
PT
VASO MEDICAL EECP MODEL MC2 UNIT
CLINTON PT TABLE (NEW IN BOX, 10+)
CENTRAL SUPPLY 
STERIS/AMSCO SONIC BATH
CUSTOM ULTRASONICS CLEANER
DEFIBS 
ZOLL M-SERIES BIPHASIC DEFIB (FACTORY SERVICED AND RECERTIFIED BY ZOLL, 18)
PHILIPS HEARTSTART XL DEFIB
CARDIO 
GE CASE STRESS TEST WITH ACQUISITION MODULE AND TREADMILL
MARQUETTE MAX-1 STRESS TEST WITH ACQUISITION MODULE AND TREADMILL
QUINTON Q4500 STRESS TEST WITH ACQUISITION MODULE AND TREADMILL (2)
ANESTHESIA
DATEX OHMEDA AESTIVA 5 ANESTHESIA MACHINE (3) 
ENDOSCOPY
FUJINON EC-450 HL5 COLONOSCOPE WITH CASE
OLYMPUS P20D BRONCHOSCOPE (4)
OLYMPUS CLV-U20 LIGHTSOURCE (2)
GLIDESCOPE PORTABLE GVL WITH HAND PIECE
SURGERY
STRYKER SYSTEM 2000 BATTERY CHARGER
RF SURGICAL RF ASSURE CONSOLE (4)
BIRTCHER 6400 ESU
OR
AMSCO 2080L OR TABLE
MIDMARK 355 MINOR OR LIGHT (2) 
LASERS
COHERENT ULTRAPULSE 5000C LASER
LASERSCOPE PARAGON 50 LASER
NOVADAQ CO2 HEART LASER 2 LASER (3)
MERRIMACK ML 840 LASER
MONITORS
GE DASH 2000 PATIENT MONITOR (2)
DATEX OHMEDA S/5 PATIENT MONITOR WITH MODULES (28)
NELLCOR N65 PULSE OX WITH SPO2 FINGER SENSOR (10) 
RADIOLOGY
SIEMENS MAMMOMAT 3000 NOVA MAMMO (DOM: JULY 2003)
BENNETT MAMMO (DOM: OCT. 1992)
COROMETRICS ALOKA 620 ULTRASOUND
MEDRAD MARK IV INJECTOR SYSTEM (2)
AGFA DRYSTAR 5302 FILM PROCESSOR (2)
Who is Centurion Service Group?
Centurion Service Group is the innovative company behind the world's largest used medical equipment auction house. They empower buyers to purchase from the largest inventory, with no minimum or maximum restrictions, and a fast and easy auction process. Selling more than 100,000 pieces of medical equipment every year, they have been rated the largest medical equipment auction house in the world. They partner with trusted healthcare systems to bring you over 6000 medical devices each month from three convenient locations- Chicago, Las Vegas, and South Florida.
To purchase through our Live and Timed Auctions, please visit our Buyer Resources Guide to learn more.
For more information on upcoming auctions, please visit http://www.centurionservice.com or contact us at (708) 761-6655.
MORE EQUIPMENT. LESS WORK.