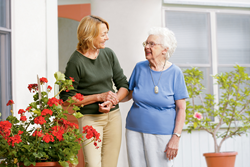 We are excited to offer this life-saving service to Anchorage area seniors so they can continue to live safely at home.
Anchorage, Alaska (PRWEB) March 21, 2016
For older adults, a fall in the home can be extremely dangerous. On average, one out of every three adults over age 65 falls each year, making falls the most common cause of injury in the home and creating real concern for seniors and their loved ones. With an in-depth understanding of the dangers that falls can present for Alaska seniors, Midnight Sun Home Care of Anchorage has added the Philips Lifeline medical alert system to their home care service offerings.
Philips Lifeline is designed to enhance independence by allowing seniors to have 24/7 access to medical assistance in the event of an emergency. By offering the Philips Lifeline service, Midnight Sun Home Care provides a greater sense of independence, safety, confidence, and peace of mind for seniors and their families.
"We are excited to be able to offer this vital, life-saving service to seniors in the Anchorage area. Philips Lifeline is a trusted company that gives seniors the confidence to continue to live in the homes they love, knowing that help is available at a push of a button," says Midnight Sun owner and CEO Kevin Turkington.
Midnight Sun Home Care will be celebrating their partnership with Philips Lifeline by offering free activation and setup (a $50 savings) to those who mention this press release through May 31, 2016. For more information about the Philips Lifeline service or any other services offered by Midnight Sun Home Care, contact their team at 907-344-2273.
About Midnight Sun Home Care
Midnight Sun Home Care is a private duty home care agency offering non-medical personal care services to clients in Anchorage, Alaska and the Mat-Su Valley area. Founded in 2002 by Kevin Turkington, Midnight Sun Home Care is committed to delivering the highest level of person-centered, relationship-focused, and coordinated in-home care and communication.
About Philips Lifeline
Part of Philips Home Healthcare Solutions, Philips Lifeline is the leading medical alert service, dedicated to helping give seniors more confidence and peace of mind to live independently in their own homes. The Lifeline service is offered by more than 3,000 healthcare and community organizations and provides services to more than 700,000 subscribers.