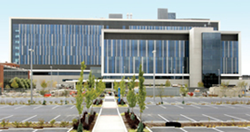 FHIR provides the opportunity for a new HIT standard which could hold the promise to speed application development and interoperability between platforms leading to a new app ecosystem.
Indianapolis, Indiana (PRWEB) March 22, 2016
On April 23rd and 24th Indiana HIMSS, in collaboration with Eskenazi Health and Epic, will be hosting a "connectathon" aimed at building the next generation of integrated and interoperable health solutions. The event will challenge programmers, clinicians, and innovators of all kinds to utilize the Epic sandbox in order to build new applications utilizing Health Level Seven (HL7) Fast Healthcare Interoperability Standard (FHIR) application programing interface (API) standards.
"FHIR opens up exciting opportunities for developers to build across interoperable EHRs. We're excited to work with Eskenazi Health and Indiana HIMSS to encourage grassroots innovation by the broader developer community." – Janet Campbell, Vice President of Patient Engagement at Epic
The connectathon stems from the many challenges healthcare currently faces across the country, including: putting patient data in the hands of patients, identifying at-risk populations, monitoring patients at risk for falls, identifying inappropriate medication use, and care planning across the continuum. The event seeks to turn innovators loose to create unique applications that address these issues and many more.
"Indiana has long been a state known for interoperability and health information exchange innovation. We are honored to partner with Eskenazi Health and Epic to solve some of our most complex challenges in healthcare with the brightest innovators." – Brian Norris, Vice President of Indiana HIMSS
This event will take place at:
Eskenazi Health
Rapp Family Conference Center
720 Eskenazi Avenue
Indianapolis, IN 46202
"FHIR provides the opportunity for a new HIT standard which could hold the promise to speed application development and interoperability between platforms leading to a new app ecosystem.  Indianapolis is well positioned to be a leader in this new reality". – Parveen Chand, Chief Operating Officer of Eskenazi Health
This event is made possible with additional support from sponsors hc1.com, Diagnotes, Intelligent Medical Objects Inc, Eleven Fifty Coding Academy and Hall Render Killian, Health and Lyman
Come spend a weekend with us and build the future!
To signup for this free event and view the agenda visit Indiana HIMSS website at http://indiana.himsschapter.org/Events/Event.aspx?ItemNumber=47375&navItemNumber=8
About Indiana HIMSS
The Indiana Chapter of HIMSS is one of over fifty affiliated chapters of the Healthcare Information and Management Systems Society, the largest health care information systems professional organization in the nation. Our purpose is to bring health care professionals together to promote the exchange of experiences and knowledge among colleagues, and to assist members in their professional growth. We accomplish this objective by presenting educational seminars/conferences, networking opportunities, and a forum for the exchange of ideas among those committed to the goal of improving patient care through the effective use of information technology. Chapter members come from diverse backgrounds, all involved in some aspect of health care information systems and management. Our members consist of professionals from hospitals and clinical organizations, third-party payors, administrators, information technology vendors, consultants, management engineers, telecommunications professionals, physicians, nurses and medical informatics professionals.
About Eskenazi Health
For 157 years, Eskenazi Health has provided high-quality, cost-effective, patient-centered health care to the residents of Marion County and Central Indiana. Accredited by The Joint Commission, nationally recognized programs include a Level I trauma center, regional burn center, comprehensive senior care program, women's and children's services, teen and adolescent care programs, Eskenazi Health Midtown Community Mental Health, and a network of primary care sites located throughout the neighborhoods of Indianapolis known as Eskenazi Health Center. In partnership with the Regenstrief Institute, Eskenazi Health conducts groundbreaking work that informs health information technology around the globe. Eskenazi Health also serves as the sponsoring hospital for Indianapolis Emergency Medical Services. As the public hospital division of the Health and Hospital Corporation of Marion County (HHC), Eskenazi Health partners with the Indiana University School of Medicine whose physicians provide a comprehensive range of primary and specialty care services. In December 2013, Eskenazi Health moved to its new main campus and opened the brand new Sidney & Lois Eskenazi Hospital. The new modern and efficient facility is Central Indiana's first Leadership in Energy and Environmental Design (LEED®) Gold health care campus and offers unique features like a one-of-a-kind sky farm and extensive art collection. The Eskenazi Health Foundation was the recipient of $40 million gift from Indianapolis couple Sidney and Lois Eskenazi to assist with building the brand new hospital facilities. HHC recognized this generous gift by naming the new hospital and health system in the Eskenazis' honor.