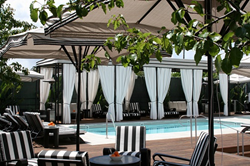 This will be an incredible epicurean experience at Hotel Shangri-la with delicious food creations prepared by our culinary team and fine Cakebread wines.
Santa Monica, CA (PRWEB) March 21, 2016
Hotel Shangri-la Santa Monica will host an evening of fine dining with a four-course meal accompanied by a selection of perfectly paired wines by Cakebread Cellars. The intimate dinner and wine event on Thursday, April 7, will feature dishes prepared by the hotel's award-winning culinary team and is being served Alfresco on the hotel's expansive pool deck.
"We are very pleased to announce our exclusive wine dinner event that will showcase a custom menu paired with a selection of Cakebread's finest wines," said Tamie Adaya, Hotel Shangri-la CEO. "This exciting evening will provide an incredible epicurean experience with delicious food creations prepared by our culinary team and accompanied by fine wines."
The Cakebread four-course wine tasting dinner includes:
Amuse Bouche
Sautéed Seared Scallop & grilled mango salsa
Cakebread Sauvignon Blanc, Napa 2014
First Course
Ravioli
Spinach Ricotta Ravioli in an herbal butter sauce
Cakebread Chardonnay, Napa 2013
Second Course
Halibut
Herb Crusted Halibut served with sweet pea puree
Cakebread Pinot Noir, Two Creeks Anderson Valley 2014
Third Course
Petit Filet
Petit Filet served with homemade Spätzle & wild mushroom bordelaise sauce
Cakebread Cabernet, Napa 2013
Dessert
Passion Fruit Pana Cotta
Passion Fruit Custard, coconut streusel
Michele Chiarlo Moscato D'asti 2015
The wine tasting dinner will take place at Hotel Shangri-la Santa Monica on Thursday, April 7, with dinner seating at 7 p.m. Tickets to the wine dinner are $125 per person and can be reserved by calling (310) 451-0717.
About Cakebread Cellars
Since its founding in 1973 by Jack and Dolores, Cakebread Cellars has been famous for its warm, gracious hospitality and unmatched wines. With an enduring commitment to quality, the belief that life's occasions are elevated by good people, good food, and good wine flows through everything they do. For more information, visit http://www.cakebread.com.
About Hotel Shangri-la
The original and urbane Hotel Shangri-la in Santa Monica is anything but ordinary and a member of Small Luxury Hotels of the World. Overlooking the Pacific since 1939, the hotel is a striking beacon of Art Deco elegance, a chronicle of the golden era of Hollywood and a quintessential nexus of culture. Hidden away on a high Santa Monica bluff overlooking the ocean and historic Santa Monica Pier, this timeless luxury boutique hotel promises guests their own personal Shangrila. Guests enjoy brilliant views of the Pacific Ocean, a celebrated history and a cultural connection during their stay. In the U.S., for toll-free room reservations only, please call (800) 345-STAY (7829) or for more information, visit http://www.Shangrila-Hotel.com.