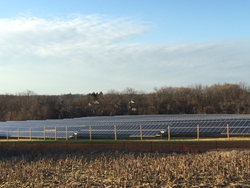 Financing enables innovative solar projects like the one at Elizabethtown College to make it across the finish line. - Doug Beebe, VP, energy finance, Key Equipment Finance
Superior, CO. (PRWEB) March 22, 2016
Key Equipment Finance, one of the nation's largest bank-held equipment finance companies and an affiliate of KeyCorp (NYSE: KEY), today announced it has provided a $3 million loan for the Elizabethtown College 2.6-megawatt DC ground-mounted solar photovoltaic system by Community Energy, Inc., a nationally recognized renewable energy developer.
The solar loan from Key Equipment Finance was structured to allow Community Energy to build and own the project and qualify for the solar investment tax credit. The project, the largest higher-education-sited solar array in Pennsylvania, was made possible by a $500,000 Pennsylvania Energy Development Authority (PEDA) grant.
"Financing enables innovative solar projects like the one at Elizabethtown College to make it across the finish line," said Doug Beebe, vice president, energy finance for Key Equipment Finance. "By using a solar loan to enhance purchasing power, Community Energy is helping achieve energy cost savings for the college, environmental benefits for the community and a clean energy learning lab for students."
Elizabethtown College is a private coed institution located on a 203-acre campus in south central Pennsylvania. The college has executed a 20-year Power Purchase Agreement (PPA) with Elizabethtown Solar LLC, the wholly owned subsidiary of Community Energy Solar created to hold the project assets.
"Community Energy is pleased to bring renewable energy at this scale to Elizabethtown College," said Brent Alderfer, president, Community Energy. "The college put sustainability goals into action, generating its own power right on campus using only the sun."
The solar installation, situated on 10 acres owned by the college in Mount Joy Township, became operational this winter and will be capable of supplying more than 20 percent of the college's annual power.
"Elizabethtown College started working on this project more than a year ago as part of our commitment to sustainability," said Bob Wallett, vice president for administration and finance at Elizabethtown College. "With the help of the PEDA grant and the dedication of our partners, we now have a solar array that provides educational opportunities to our students, environmental benefits to the community and financial benefits to the college."
Namasté Solar built and installed the project's 8,170 solar panels in collaboration with Advanced Solar Industries. The solar installation is expected to produce more than 3 million kilowatt hours per year – enough to power the equivalent of almost 300 homes.
About Key Equipment Finance
Key Equipment Finance has been in the equipment finance business for 43 years and is one of the largest bank-based equipment finance providers in the U.S. The company provides tailored equipment lease and finance solutions for commercial clients and government entities. Through its manufacturer and vendor alliances unit, equipment finance programs are developed for manufacturers, distributors and resellers.
Key Equipment Finance's innovation markets group includes an energy finance team, which provides leases tailored to the energy market. Headquartered outside Denver, Colorado, Key Equipment Finance manages nearly $10 billion in assets and originates over $4.5 billion of equipment financing annually. For more information, visit http://www.keyequipmentfinance.com.
About KeyCorp
KeyCorp was organized more than 160 years ago and is headquartered in Cleveland, Ohio. One of the nation's largest bank-based financial services companies, Key had assets of approximately $95.1 billion at December 31, 2015.
Key provides deposit, lending, cash management and investment services to individuals and small and mid-sized businesses in 12 states under the name KeyBank National Association. Key also provides a broad range of sophisticated corporate and investment banking products, such as merger and acquisition advice, public and private debt and equity, syndications and derivatives to middle market companies in selected industries throughout the United States under the KeyBanc Capital Markets trade name. For more information, visit https://www.key.com/. KeyBank is Member FDIC.
About Community Energy
Since its inception in 1999, Community Energy has led the development and construction of more than 1,000 MW of wind and solar generating facilities. Community Energy uses a pioneering mix of utility off-take approaches, renewable energy marketing programs, new financing structures, development expertise, and public funding and policy support to accelerate the deployment of renewable energy technologies at scale. With headquarters in Radnor, PA, Community Energy has a strong presence nationally in renewable energy markets. For more information about Community Energy, please visit http://www.communityenergysolar.com.
About Elizabethtown College
Elizabethtown College is a selective, independent, residential coeducational college located on an attractive 203-acre campus in south central Pennsylvania. Its approximately 1,800 undergraduates hail from nearly 30 states and 40 foreign countries. For more information, visit http://www.etown.edu/.