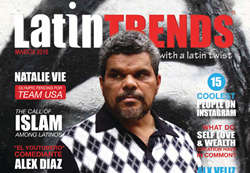 (PRWEB) March 21, 2016
Luis Guzman, this month's LatinTRENDS cover personality, has appeared in hit shows like "Oz" and "Narcos," as well as big screen blockbusters like "Carlito's Way" and "Boogie Nights." Yet, these titles are mere specks in Guzman's lengthy repertoire of over one hundred films.
In an exclusive interview with LatinTRENDS, Luis talks about his early career as a social worker and how he worked his way to superstardom. Guzman's latest film is a comedy, "Keanu," starring Key and Peele, featuring Method Man, Nia Long and Will Forte and opens in theaters April 29.
LatinTRENDS also features an exclusive interview with Eugenio Derbez, where he discusses his experience in entertainment and positive portrayals of Latinos in film. He tells us, "In general, I want my films to be inspirational and improve the image of our people." See Derbez and Jennifer Garner in "Miracles from Heaven" in theaters now.
This month, LatinTRENDS Magazine also shines a light on young, new talent: kizomba singer Alx Veliz; Premio Lo Nuestro Best Tropical Artist of the Year winner Fantine; and Olympic fencer Natalie Vie.
Also, see in-depth reporting on important topics in "The Rise of International Students in the U.S.," "Prescription Drug Ads Ban," and "The Call of Islam among Latinos."
The March issue also includes entertainment guides like "Top 15 Latinos on Instagram," "Ten Unforgettable Latin American Honeymoon Destinations," and "5 Restaurants Cooking Up Latin Cuisine Nationwide."
LatinTRENDS also features "Digital Detox" and "Healthy Habits" guides, helping readers maintain a healthy body and mind.
Download the LatinTRENDS Magazine app:
iPhones & iPads: http://apple.co/20jTqTe Android http://bit.ly/1nr2vvC
Contact: Maria Luna, (212) 851-6164, mluna(at)latintrends(dot)com